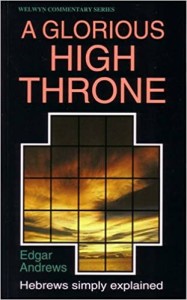 DEFINING FAITH
EVERY MOUNTAINEER, OR EVEN SERIOUS HILL-WALKER HAS HAD THE EXPERIENCE.  YOU SURMOUNT WHAT YOU THOUGHT WAS THE HIGHEST POINT, ONLY TO FIND THAT FURTHER AND HIGHER PEAKS LIE BEFORE YOU.  Hebrews is a little like that.  In 8:7-13 we reached the pinnacle of the Writer's theological argument, the unveiling of the new covenant.  But a further peak appeared as we considered the outcome of that covenant – the believe has been 'perfected for ever' (10:12-18).  We then discovered an even higher point in 10:19-25, which sets out the implications of the covenant in terms of our approach to God, our eternal hope and our relationship to our fellow believers.  Can there be further heights to scale?  The answer if 'Yes', and Hebrews 11 is just such – a spiritual massif.
BUT WHAT HAS THIS GREATLY LOVED PASSAGE ON FAITH TO DO WITH THE NEW COVENANT?  DOES THE WRITER SET OFF ON A NEW TANGENT IN HEBREWS 11?  NOT AT ALL.  As we have seen the subject of faith is introduced in the closing verses of Hebrews 10.  There we read, 'You have need of endurance, so that after you have done the will of God, you may receive the promise' (10:35-36).  Clearly, 'the promise' is that which accrues to believers under the new covenant in Christ.  but how can we endure in such a way as to obtain it?  The Writer has already answered the question – we endure by faith.  Hebrews 11 shows us how it works.
FAITH AND THE NEW COVENANT (11:1)
ALTHOUGH THERE IS NO EXPLICIT MENTION OF FAITH IN 8:7-13), WHERE JEREMIAH'S PROPHECY OF THE NEW COVENANT IS PRESENTED, THERE CAN BE NO DOUBT THAT FAITH IS INTEGRAL TO THE ENJOYMENT OF THIS COVENANT.  On God's part, we enter the new covenant through election, effectual calling and regeneration.  But on our part, we both enter and endure through God's gift of faith.  It is by faith in Christ, says Paul, that 'we have access into this grace in which we stand and rejoice in hope of the glory of God' (Rom. 5:12, emphasis added).
THIS EMERGES CLEARLY IN THE OPENING VERSE OF CHAPTER 11, WHERE WE READ'…FAITH IS THE SUBSTANCE OF THINGS HOPED FOR, THE EVIDENCE OF THINGS NOT SEEN' (11:1).  THESE WORDS ARE NORMALLY SEEN AS A DEFINITION OF WHAT FAITH IS, AND WE SHALL CONSIDER THEM IN THIS WAY PRESENTLY.  But before doing so notice how the Writer here links faith two essential aspects of the new covenant – hope and invisibility!  In fact, of course, these two aspects are themselves related, for Paul tells us that 'we were saved in this hope, but hope that is seen is not hope; for why does one still hope for what he sees?' (Rom. 8:24).
UNLIKE THE OLD COVENANT, WITH ITS MANIFEST GLORY AND PUBLIC CEREMONIES, THE NEW COVENANT IS INVISIBLE.  AS PAUL DECLARES, '…WE DO NOT LOOK AT THE THINGS WHICH ARE SEEN, BUT AT THE THINGS WHICH ARE NOT SEEN.  For the things which are seen are temporary, but the things which are not seen are eternal' (2 Cor. 4:18).  Gone is the visible earthly tabernacle – replace by as heavenly sanctuary which is 'not of this creation' (9:11).  Gone are the animal sacrifices, with their annual (and indeed daily) reminder of sin and atonement.  They are replaced by a once-for-all satisfaction that occurred historically two millennia ago (10:3, 12).  Gone us ab all-too-human high priest, richly arrayed, esteemed by men, conducting endless and complex rituals in the sight of all the people.  The great High Priest of the new covenant is invisible, for he has passed through the heavens into the presence of the unseen God (4:14).
IT WAS PERHAPS, THE LOSS OF THIS VISIBLE ELEMENT IN RELIGION THAT TROUBLED THE HEBREWS AND TEMPTED THEM TO RETURN TO THEIR FORMER WSAYS.  THE SAME IS OFTEN TRUE TODAY.  People seek reassurance in what is tangible, visible and ritualistic.  Many churches pander to this desire, adorning their so-called priests in special robes, elevating them above the laity and glorying in their priestly powers.  Their church buildings are ornate, a celebration of human artistry – earthly tabernacles that delight the sensibilities of man but are irrelevant to the worship of God in Spirit and in truth.
EVEN IN EVANGELICAL CHURCHES THERE IS OFTEN A TENDENCY TO DRESS UP; TO CREATE 'ATMOSPHERES'; TO PROVIDE SPECTACLE OF ONE SORT OR ANOTHER; TO CAPUTRE THE EYE AND FOCUS THE MIND ON VISIBLE RELIGION.  But our hearts and minds ought rather to be set on the invisible Christ who ministers in the heavenly sanctuary – and for that we need faith!
SIMILARLY, JUST AS WE CANNOT 'SEE' THE INVISIBLE ENTITIES OF THE NEW COVENANT WITHOUT FAITH, NEITHER CAN WE ENTERTAIN HOPE CONCERNING THEM.  MEN MAY HAVE WAGUE AND TENTATIVE 'HOPES' ABOUT SUCH MATTERS AS RIGHTEOUSNESS AND HEAVEN, BUT WITHOUT FAITH SUCH HOPES ARE GROUNDLESS.  A person suffering from a terminal disease may still 'hope' to be cured, but this may be no more than wishful thinking.
BUT THE HOPE THAT BELIEVERS HAVE IN CHRIST IS ALTOGETHER DIFFERENT, BECAUSE 'FAITH' IS THE SUBSTANCE (FOUNDATION) OF THINGS HOPED FOR (11:1).  When we hope our hopes in faith, we do so with assurance – for they are grounded in certainty. – Edgar Andrews
Professor Thomas A. Rohm