The Superiority of Melchizedek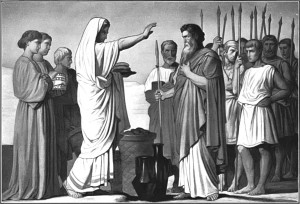 HEBREWS 7:1-3
NAS  Hebrews 7:1-3 For this Melchizedek, king of Salem, priest of the Most High God, who met Abraham as he was returning from the slaughter of the kings and blessed him, 2 to whom also Abraham apportioned a tenth part of all the spoils, was first of all, by the translation of his name, king of righteousness, and then also king of Salem, which is king of peace. 3 Without father, without mother, without genealogy, having neither beginning of days nor end of life, but made like the Son of God, he abides a priest perpetually.
"MELCHIZEDEK'S SUPERIORITY OVER THE LEVITICAL PRIESTHOOD IS PRESENTED THROUGH TWO CONCURRENCES IN HIS MEETING WITH ABRAHAM – TITHING AND BLESSING…
NAS  Genesis 14:17-20 Then after his return from the defeat of Chedorlaomer and the kings who were with him, the king of Sodom went out to meet him at the valley of Shaveh (that is, the King's Valley). 18 And Melchizedek king of Salem brought out bread and wine; now he was a priest of God Most High. 19 And he blessed him and said, "Blessed be Abram of God Most High, Possessor of heaven and earth; 20 And blessed be God Most High, Who has delivered your enemies into your hand." And he gave him a tenth of all.
"IN THE ANCIENT WORLD, PAYING TITHES TO ANOTHER WAS RECOGNITION OF THE OTHER'S SUPERIORITY AND A SIGN OF SUBJECTION TO THAT PERSON. In the case of Abraham's rendering his title, we must remember that when Abraham retuned from the slaughter of the kings, he was on a personal mountaintop. He had proven himself a man of great courage and of considerable capability. Moreover, in the eyes of succeeding generations of Jews he would be considered to be the greatest of men. ABRAHAM WAS CALLED THE 'FRIEND' OF GOD…
NAS  2 Chronicles 20:7 "Didst Thou not, O our God, drive out the inhabitants of this land before Thy people Israel, and give it to the descendants of Abraham Thy friend forever.
NAS  Isaiah 41:8 "But you, Israel, My servant, Jacob whom I have chosen, Descendant of Abraham My friend,
NAS  James 2:23 and the Scripture was fulfilled which says, "And Abraham believed God, and it was reckoned to him as righteousness," and he was called the friend of God.
"ABRAHAM WAS THE FATHER OF THE NATION OF ISRAEL – THE PATRIARCH.
"BUT WHEN HE MET MELCHIZEDEK, HE RECOGNIZED THAT PERSONAGE'S SUPERIOR GREATNESS AND PAID HIM 'A TENTH OF THE SPOILS,' CHOICEST SPOILS OF WAR. THIS WAS A CALCULATED RECOGNITION BY ABRAHAM THAT HE WAS IN THE PRESENCE OF ONE GREATER THAN HIMSELF." – Hughes
QUITE AN ADMISSION BY THE GREAT PATRIARCH, TO SAY THE LEAST!
"OUR WRITER EXPRESSES PROPER ASTONISHMENT. 'SEE HOW GREAT THIS MAN WAS TO WHOM ABRAHAM THE PATRIARCH GAVE A TENTH OF THE SPOILS!'
"THIS MELCHIZEDEK WAS A PERSON OF TRANSCENDING SUPERIORITY!
"THE AUTHOR HAS MADE A POWERFUL POINT. BUT HE REALIZES THAT SOME MAY              DIMINISH IT IN THEIR MINDS BY SAYINGM 'WHAT'S SO GREAT ABOUT THAT? LEVITICAL PRIESTS COLLECTED TITHES TOO!' SO IN ANTICIPATION HE FURTHER ARGUES:
NAS  Hebrews 7:5-6a And those indeed of the sons of Levi who receive the priest's office have commandment in the Law to collect a tenth from the people, that is, from their brethren, although these are descended from Abraham. 6 But the one whose genealogy is not traced from them collected a tenth from Abraham…
"HIS POINT IS that the Levites' ability to collect tithes came from the provision made by the Law, and not from any natural superiority. But Melchizedek was different. He did 'not have his descent from them (Levites),' and yet, as a figure of immense superiority, he collected tithes not from the people but from Abraham.
"THE AUTHOR FURTHER BUILDS ON MALCHIZEDEK'S ESTABLISHED SUPERIORITY THROUGH TITHING BY NOTING THAT SINCE THE SCRIPTURES DO NOT LIST HIS END, HE REPRESENTS A LIVING SUPERIOR PRIESTHOOD…
NAS  Hebrews 7:8 And in this case mortal men receive tithes, but in that case one receives them, of whom it is witnessed that he lives on.
"FOR THE FINAL EXPRESSION OF THE SUPERIORITY OF MELCHIZEDEK'S PRIESTHOOD OVER THE LEVITICAL PRIESTHOOD AS SEEN IN ABRAHAM'S TITHING TO MELCHIZEDEK, THE WRITER APPEALS TO THE COMMON BELIEF THAT AN ANCESTOR CONTAINS ALL HIS DESCENDANTS WITHIN HIMSELF. HE ARGUES,
NAS  Hebrews 7:9-10 And, so to speak, through Abraham even Levi, who received tithes, paid tithes, 10 for he was still in the loins of his father when Melchizedek met him.
"EVEN THE LEVITICAL PRIESTHOOD ACKNOWLEDGES THE SUPERIORITY OF MELCHIZEDEK'S PRIESTHOOD – BECAUSE IT PAID TITHES TO HIM IN ADVANCE!
"OUR WRITER HAS TAKEN THE COMMON HEBREW UNDERSTANDING THAT TITHING TO ANOTHER ESTABLISHES THE RECIPIENT'S SUPERIORITY AND HAS DEMONSTRATED FROM EVERY ANGLE THAT MELCHIZEDEK IS SUPERIOR." – Hughes
AS YOU KNOW IF YOU HAVE BEEN READING MY HEBREW BLOGS AT ALL THAT I HAVE BEEN ARGUING THAT THE BOOK OF HEBREWS WAS MOST PROBABLY ORIGINALLY ADDRESSED TO AN AUDIENCE THAT, LIKE OUR AVERAGE CONGREGATIONS TODAY, WAS MADE UP OF A MIXTURE OF BELIEVERS AND UNBELIEVERS TOGETHER, THE MAJORITY OF WHOM, UNLIKE TODAY, I BELIEVE, WERE JEWISH.
"THE SECOND PRINCIPLE IN CHAPTER 7 THE WRITER OF HEBREWS USES TO ESTABLISH MELCHIZEDEK'S SUPERIORITY IS THAT IN A FORMAL BIBLICAL BLESSING THE SUPERIOR ALWAYS BLESSES THE INFERIOR. Just as Abraham knew he should present a tithe to Melchizedek, he also knew he must bow and receive his prayer of blessing. Therefore verses 6b-7 tell us that Melchizedek 'received tithes from Abraham and blessed him had the promises. It is beyond dispute that the inferior is blessed by t, WHO IS A PRIEST he superior. '
"WHAT A STUPENDOUS ACT ON ABRAHAM'S PART! Remember, God had told Abraham that…
NAS  Genesis 12:3 And I will bless those who bless you, And the one who curses you I will curse. And in you all the families of the earth shall be blessed."
"ABRAHAM WAS THE SUPREME BLESSER! ALL THE REST OF MANKIND WERE BLESSEES! BUT HE SEES HIMSELF INFERIOR TO MELCHIZEDEK – who towers above him with mysterious grandeur – and receives his blessing.
"SO WE MUST CONCLUDE THAT MELCHIZEDEK'S PRIESTHOOD, THOUGH IT HAS ONLY A BRIEF MENTION IN SCRIPTURE, IS SUPERIOR IN EVERY BIBLICAL AND LOGICAL WAY TO THE OLD TESTAMENT LEVITICAL PRIESTHOOD. YET, REALIZING THAT WE NOTE THAT IT WAS ONLY A TYPE OF THE ULTIMATE SUPERIOR PRIESTHOOD OF OUR LORD JESUS CHRIST, WHO IS 'A PRIEST FOREVER, AFTER THE ORDER OF MELCHIZEDEK.' AND AS THE ANTITYPE TO THE TYPE, CHRIST SUPERSEDES IT, JUST AS LIVING REALITY SUPERSEDES A PHOTOGRAPH!
"THOUGH MELCHIZEDEK WAS 'KING OF RIGHTEOUSNESS' AND 'KING OF PEACE, HE COULD NEVER MAKE MEN RIGHTEOUS OR GIVE THEM PEACE. HE WAS ONLY A TYPE. BUT JESUS, THE GRAND, TRUE, ETERNAL MELCHIZEDEKIAN PRIEST/KING, GIVES RIGHTEOUSNESS AND PEACE!" – Hughes
THIS IS TRUE, INCOMPARABLE, AND ETERNAL BLESSING!
"THE IMPLICATIONS OF THIS FOR THE JEWISH CHURCH AS IT BOBS ON THE OMINOUS TIDES OF THE FIRST CENTURY WERE READILY APPARENT – AN ETERNAL MELCHIZEDEKIAN KING/PRIEST HAS BOTH SECURED THEIR RIGHTEOUSNESS AND PEACE AND NOW DEVOTES CONTINUAL PRAYER FOR THE WORKING OUT OF BOTH QUALITIES IN THEIR LIVES. THIS MEANS THEY WILL SURVIVE THE TIDES.
"NOW CHRIST, OUR ETERNAL MELCHIZEDEK, OFFERS THE SAME TO HIS CHURCH (MATTHEW 26:26-30; JOHN 6:53-58; 1 CORINTHIANS 11:17-34). HIS LIFE – HIS FLESH AND BLOOD – HAVE SECURED OUR RIGHTEOUSNESS AND PEACE. AND BY FEEDING ON HIM AS OUR FOOD AND DRINK, WE RECEIVE SUSTENANCE TO LIVE AS WE OUGHT AND TO BRING HIS HEALING KISS TO A BROKEN WORLD." – Hughes
I AM TRULY THRILLED TO HONESTLY BE ABLE TO SAY I LEARNED AS MUCH FROM THE STUDY OF THESE THREE VERSES THAN I'VE LEARNED FROM ANY PASSAGE WE HAVE COVERED THUS FAR.  Even after having spent years teaching and preaching about Melchizedek, I don't think I ever really understood him, his role and importance as I humbly feel I now do. The adjectives commonly used to describe Melchizedek – words like mysterious and enigmatic – are well justified in my opinion. I praise the dear Lord for what I've learned and, as result, the broader and sharper perspective I've gained on Hebrews in particular and the Bible in general!
ALTHOUGH THERE IS MORE I COULD SAY, I WILL END THIS WEEK'S STUDY BY SHARING WITH YOU THIS EXCELLENT SUMMARY OF HEBREWS 7:1-3 AND THE ENTIRE CHAPTER: 'The presentation on Melchizedek is an integral part of the 'subject which is difficult to explain intelligibly' (5:11). The writer's main concern in 7;1-28 is to delineate the nature of Jesus' priestly office and prove that it is superior to the Levitical priesthood. The basis of his argument is a reflection on Psalm 110:4 and God's oath to establish an eternal priesthood like that of Melchizedek. In 7;1-10 the writer explores this theme in dependence upon selected elements in Genesis 14:17-20, which are used freely to clarify who Melchizedek was and the nature of his priesthood. He uses the incident of Melchizedek's meeting with Abraham to show the priority over Melchizedek over the Levitical priests. The comparison is primary to the demonstration in 7:11-28 that the priest 'Melchizedek' is superior to the Levitical priests. In the Genesis narrative and Psalm 110:4, the writer finds the unmistakable implication that the Levitical priesthood foreshadowed and prefigured in the person of Melchizedek. THE OBJECT OF INTEREST THROUGHOUT THE MIDRASH (an early Jewish interpretation of or commentary on a biblical text, clarifying or expounding a point of law or developing or illustrating a moral principle; a collection of such interpretations or commentaries, esp. those written in the first ten centuries A.D. The basic purpose of Midrash, or exposition of Scripture, is to actualize the authority of the biblical text for the present situation. This type of early rabbinic exegesis was characterized by fanciful and whimsical interpretations that generally ignored the literary and historical context of texts. – TAR) IS NOT MELCHIZEDEK BUT THE ONE TO WHOM A PRIESTHOOD WAS PROMISED IN THE PSALM ORACLE." – Lane
– Professor Thomas A. Rohm