The Sacrifice of Exclamatory Thanksgiving – PART 1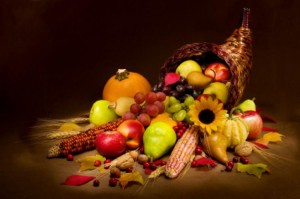 PSALM 69:30 & SELECTED VERSES
IN THIS SPECIAL THANKSGIVING MESSAGE WE WILL LOOK AT THE OLD TESTAMENT THANK OFFERING and see how learning about this ancient practice might improve our thanksgiving to God today…
NAS Leviticus 7:12-15 'If he offers it by way of thanksgiving, then along with the sacrifice of thanksgiving he shall offer unleavened cakes mixed with oil, and unleavened wafers spread with oil, and cakes of well stirred fine flour mixed with oil. With the sacrifice of his peace offerings for thanksgiving, he shall present his offering with cakes of leavened bread. And of this he shall present one of every offering as a contribution to the LORD; it shall belong to the priest who sprinkles the blood of the peace offerings. Now as for the flesh of the sacrifice of his thanksgiving peace offerings, it shall be eaten on the day of his offering; he shall not leave any of it over until morning.
AN OFFERING OR SACRIFICE OF THANKSGIVING WAS A MAJOR PART OF THE RELIGIOUS SYSTEM OF ANCIENT BIBLICAL JUDAISM.
BASED UPON AN EXAMINATION OF THE SACRIFICE OF THANKSGIVING,  I believe I can say that the Bible teaches thanksgiving to God is to be given with an exclamation point! I believe I can prove that from basic Hebrew grammar. We are not only to offer God a Sacrifice of Thanksgiving but we are to do it with cheerful enthusiasm!
THE DICTIONARY DEFINITION OF "SACRIFICE" – 1. a. The act of offering something to a deity in propitiation or homage, especially the ritual slaughter of an animal or a person. b. A victim offered in this way. 2. a. Forfeiture of something highly valued for the sake of one considered to have a greater value or claim. b. Something so forfeited. 3. a. Relinquishment of something at less than its presumed value. b. Something so relinquished. c. A loss so sustained. 4. Baseball: A sacrifice hit or sacrifice fly.
A SACRIFICE IS SOMETHING THAT IS GIVEN. As a lifelong sports fan you'll forgive me for pointing out that a sacrifice in baseball is when the batter, in effect, gives himself up to advance a runner. Both in biblical and secular terms, a sacrifice may be seen as a selfless act.
THAT'S HOW I WOULD LIKE YOU TO THINK OF SACRIFICE IN THIS WRITING: in a positive, selfless expression of gratitude to God.
THE TERMINOLOGY USED IN THE PENTATEUCH (the first five books of the Bible) for describing the earliest rituals of sacrifice is most clearly found in Leviticus. Let's look at a verse there as a scriptural starting point…
NAS Leviticus 22:29 "And when you sacrifice a sacrifice of thanksgiving to the LORD, you shall sacrifice it so that you may be accepted.
SACRIFICES GO BACK TO THE DAWN OF CIVILIZATION. We know from archaeology and history that sacrifices were an integral part of every ancient civilization. The sacrifices of Judaism are not unique. But they are distinctive. No other culture had the same highly ordered and sophisticated system as the Jews, a system that supernaturally pointed to the future birth and sacrificial death of the Savior of the world the Lord Jesus Christ…
HERE IS THE VERY FIRST OFFERING RECORDED IN SCRIPTURE…
NAS Genesis 4:3-4 So it came about in the course of time that Cain brought an offering to the LORD of the fruit of the ground. And Abel, on his part also brought of the firstlings of his flock and of their fat portions. And the LORD had regard for Abel and for his offering;
CAIN AND ABEL BOTH BROUGHT A SACRIFICE. They both gave. Now, we know that Abel's offering was accepted by God and that Cain's was not. But let's just focus for now on the picture of both Cain and Abel giving. We know that the church is not the nation of Israel. We know that all Scripture was written for us, but not all Scripture was written to us. We understand that we are in the O.T. today and that we are N.T. believers. The focus of this blog will eventually settle on Psalm 69:30. The Psalms are O.T. literature that may be selectively applied to us today in the church. They are timeless and universal truths that are for the benefit of all believers in the God of the Bible. So we are on solid ground when we speak of the Sacrifice of Thanksgiving. But let's don't get sidetracked with all that, as true as it is. Let us in this particular Thanksgiving week just focus on the picture of sacrifice as a gift.
I MADE THE REMARK IN ONE OF MY SEMINARY CLASSES LAST WEEK THAT preaching and teaching in great part are both all about creating pictures in the minds of your listeners. I said that because I believe in order for a person to effectively grasp what you are saying he or she, more often than not, needs something that he or she can visualize. Even if that picture is blurry, something visual must be established in the mind of the listener in order to begin to comprehend the message or lesson. I attempted to do that in every sermon I preached or lesson I now teach; I will attempt to do that in this blog.
IN THIS MESSAGE, THERE ARE, I BELIEVE, MANY FACTS THAT WE CAN VISUALIZE. I will give you a lot of facts; your job is to process and organize these facts in such a way that you create a picture – or, probably more specifically, pictures – in your mind. Some of the pictures are visual images, just like photos or movies. Others are more verbal; they are word pictures.
THE PURPOSE OF ALL THIS IS SO THAT YOU WILL BE EQUIPPED TO VALUE THIS WEEK OF THANKSGIVING in such a way that your understanding and appreciation of Thanksgiving is enhanced and as a result you are able to thank God more in a more biblical and emphatic way.
GOD WANTS US TO BE THANKFUL PEOPLE. He wants our thanksgiving to be "sacrificed" passionately…
NAS Psalm 95:2 Let us come before His presence with thanksgiving; Let us shout joyfully to Him with psalms.
PSALM 95:2 EMPLOYS A HEBREW VERB THAT IS IN THE MOST INTENSE form possible (the Hebrew piel verbal stem). Only the NET Bible and the ESV translation render this verse correctly with an exclamation mark.
GOD EXPECTS TO RECEIVE OUR THANKSGIVING. We are told to approach Him with enthusiastic thanksgiving. Listen to these beautiful words of Psalm 100 and see if you don't agree that Thanksgiving is meant to be offered with an exclamation point!
NAS Psalm 100:1-5 A Psalm for Thanksgiving. Shout joyfully to the LORD, all the earth.
Serve the LORD with gladness; Come before Him with joyful singing. Know that the LORD Himself is God; It is He who has made us, and not we ourselves; We are His people and the sheep of His pasture. Enter His gates with thanksgiving, And His courts with praise. Give thanks to Him; bless His name. For the LORD is good; His lovingkindness is everlasting, And His faithfulness to all generations.
THIS BEAUTIFUL LITTLE PSALM IS A CALL TO PUBLICLY THANK AND PRAISE GOD. Consider that in the light of our Thanksgiving in modern day America: any feeble, fleeting mention of God is swept away by the aggressive blare of materialism and hedonism.  No, we are not a theocracy like the nation of Israel (a theocracy is a government that is ruled by God or any religious authority), but because "It is He who has made us! We are the sheep of His pasture," we can, I believe, intelligently make this connection. Psalm 100 is a public celebration of the Lord's rule over mankind. When understood this way, all nations can be enthusiastically shouting praise and thanksgiving to God in word and song. As a nation that was founded on the principles of the God of the Bible, we in America should be engaged in a public sacrifice of praise. The Lord should be publicly praised and worshipped because He is the sovereign Creator of all the universe.
THINK I'M GOING TOO FAR THERE? Listen to what Abraham Lincoln said in his Thanksgiving Day Proclamation of 1863: "…No human counsel hath devised, nor hath any mortal hand worked out these great things (God's providential care of America).  They are the gracious gifts of the most high God, who, while dealing with us in anger for our sins, hath nevertheless remembered mercy." (mercy is withholding from us what punishment or condemnation we deserve – TAR).
AS I SAY EVERY THANKSGIVING, "TO WHOM DO UNBELIEVERS GIVE thanks?" I do not say this angrily or condescendingly, but sadly, questioningly. To whom does the evolutionists give thanks? How can a person who does not acknowledge God even have a Thanksgiving? Thanksgiving is to be an acknowledgement of God's blessings. To exactly whom do unbelievers give thanks?
I BELIEVE PSALM 69:30 SHOULD BE AN ACCURATE REFLECTION OF ALL OF US EVEN AND ESPECIALLY IN THESE MODERN TIMES…
NAS Psalm 69:30 I will praise the name of God with song, And shall magnify Him with thanksgiving.
I PERHAPS SPENT THE MOST TIME THIS WEEK WITH THIS VERSE. Listen to it again…
NAS Psalm 69:30 I will praise the name of God with song, And shall magnify Him with thanksgiving.
THANKSGIVING IS A CHOICE. Thanksgiving is a mindset; we decide to give thanks: "I will praise the name of the Lord!"
PSALM 69:30 IS ANOTHER EXAMPLE IN THE HEBREW TEXT WHERE THE VERB IS BEING EXPRESSED IN THE MOST INTENSE WAT POSSIBLE. There are 7 different verb stems or conjugations in Hebrew and this (the piel stem) is the most intense. Consider, if you will, Psalm 69:30 in this intense light. "I will praise the name of the Lord! I will magnify Him with thanksgiving!"…
PSALM 69:30 SHOULD BE PUNCTUATED WITH EXCLAMATION POINTS! David praised the name of the Lord with exuberance. The only English translation that has it set off with exclamation marks is, again, the NET Bible. All the other translations are lacking, in my opinion. Hebrew grammar in the O.T. all but insists the verse be rendered exclamatorily…
NET Psalm 69:30 I will sing praises to God's name! I will magnify him as I give him thanks!
GOD EXPECTS TO RECEIVE OUR EXCLAMATORY THANKSGIVING!
VERSE 31 ADDS TO THE INTENSITY OF THE PSALM WHEN PROPERLY UNDERSTOOD…
NAS Psalm 69:31 And it will please the LORD better than an ox or a young bull with horns and hoofs.
"HORNS AND HOOFS" (or hooves; both are correct). This detail tells us that the animal was most probably grown and young and therefore especially valuable. If you were a person living in the days in which this psalm was written, to sacrifice a fully grown, strong and healthy young bull would be a major expense. It would likely be the most valuable thing you owned. Yet David says here, in the most intense way possible in the Hebrew, that his intense praise and thanksgiving would please the Lord more! Consider that. What does that tell us about our thanksgiving?
THANKSGIVING TO GOD SHOULD BE AN INTENSE EXPRESSION OF GIVING UNTO GOD THE GLORY DUE HIS WONDERFUL NAME.
THANK YOU, LORD!
                                                                                    – Professor Thomas A. Rohm