The Peril of Not Progressing – Part 9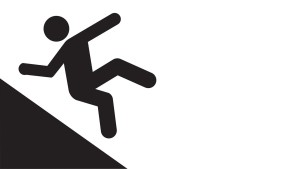 HEBREWS 6:4-8
THE ELECTRONIC DICTIONARY (Advanced English Dictionary) I HAVE INSTALLED ON MY COMPUTER GIVES THIS ENTRY FOR THE WORD "DIFFICULT": not easy; requiring great physical or mental effort to accomplish or comprehend or endure; hard. I BELIEVE THE WORD "DIFFICULT" TO BE THE MOST APPROPRIATE WORD BEFITTING THIS EXTREMELY CHALLENGING AND DEBATABLE PASSAGE IN THE BOOK OF HEBREWS. BOTH "CHALLENGING" AND "DEBATABLE" ARE CLOSE SECONDS.
THIS WEEK'S BLOG REALLY CONCLUDES MY 9-PART STUDY OF HEBREWS 6:4-6, THE MOST DIFFICULT VERSES OF THIS MOST DIFFICULT PASSAGE WHICH INCLUDES VERSES 7-8. WE WILL STUDY VV. 7-8 NEXT WEEK, WHICH WILL BE THE FINAL CONCLUSION.
NAS  Hebrews 6:4-8 For in the case of those who have once been enlightened and have tasted of the heavenly gift and have been made partakers of the Holy Spirit, 5 and have tasted the good word of God and the powers of the age to come, 6 and then have fallen away, it is impossible to renew them again to repentance, since they again crucify to themselves the Son of God, and put Him to open shame. 7 For ground that drinks the rain which often falls upon it and brings forth vegetation useful to those for whose sake it is also tilled, receives a blessing from God; 8 but if it yields thorns and thistles, it is worthless and close to being cursed, and it ends up being burned.
AS I HAVE BEEN DOING EACH WEEK IN PARTS 1-8, MAINLY DUE TO THE DIFFICULTY OF THE PASSAGE, I AM INCLUDING THIS PARAGRAPH FROM THE BIBLE KNOWLEDGE COMMENTARY AS BOTH AN INTRODUCTION TO THE CURRENT BLOG AND A REVIEW, NOW ALSO BEGINNING A CONCLUSION, OF CHAPTER 6…
6:4–6. This passage has been interpreted in four ways: (1) that the danger of a Christian losing his salvation is described, a view rejected because of biblical assurances that salvation is a work of God which cannot be reversed; (2) that the warning is against mere profession of faith short of salvation, or tasting but not really partaking of salvation (The New Scofield Reference Bible, p. 1315); (3) that hypothetically if a Christian could lose his salvation, there is no provision for repentance (The Ryrie Study Bible, p. 1736); (4) that a warning is given of the danger of a Christian moving from a position of true faith and life to the extent of becoming disqualified for further service (1 Cor. 9:27) and for inheriting millennial glory. The latter is the interpretation adopted here. The entirety of these verses constitutes a single sentence in Greek as well as in the English of the NIV. The central assertion is: It is impossible for those who have … to be brought back to repentance. Following the words "those who" is a description of the persons whom the writer affirmed cannot possibly be brought back to a state of repentance. The description he gave shows that he had Christians in mind.
6:7–8. An illustration from nature now drives home the writer's point. Whenever rain-soaked ground is properly productive, it receives the blessing of God. Here the writer compared the spiritual privileges he had just enumerated (vv. 4–5) to a heavenly rain descending on the life of a Christian. Their effect should be a crop useful to those for whom it is farmed—a reference perhaps to the way other Christians benefit from the lives of fruitful believers (cf. v. 10). Such productivity brings divine blessings on fruitful believers' lives.
But suppose the land that has received this "rain" is unproductive? Though the NIV introduces the word land for a second time in verse 8, the original text seems to relate the statement directly to the "land" mentioned in verse 7. A clearer rendering would be: "But when (or, if) it produces thorns and thistles.…" The point is that when a plot of ground that has been rained on is productive, God blesses it. But if it only produces thorns and thistles, it is worthless (adokimos, "disapproved"; cf. 1 Cor. 9:27) and is in danger of being cursed. In the end it will be burned. The metaphor recalls God's original curse on the ground (Gen. 3:17–19) and suggests that an unproductive Christian life ultimately ("in the end") falls under the severe condemnation of God and is subject to His blazing wrath and judgment (cf. Heb. 10:27).
Naturally the reference to "burned" has caused many to think of hell, but there is nothing in the text to suggest this. God's anger against His failing people in the Old Testament is often likened to the burning of fire (cf., e.g., Isa. 9:18–19; 10:17). Even this writer could say, with intense metaphorical effect, "Our God is a consuming fire" (Heb. 12:29). In fact, to think of hell here is to betray inattention to the imagery employed by the author. The burning of a field to destroy the rank growth it had produced was a practice known in ancient times. Its aim was not the destruction of the field itself (which, of course, the fire could not affect), but the destruction of the unwanted produce of the field. Thereafter the field might be serviceable for cultivation.
By choosing this kind of metaphor, the author showed that he did not totally despair of those who took the backward step he was warning against. To be sure, at least prior to severe divine judgment, all efforts to recall such people to Christian faith are futile (6:4–6), but it cannot be said that the impossibility applies in an absolute sense to God Himself. What the author probably meant is that nothing can deter apostates from the fiery retribution toward which they are headed, but once their "land" has been burned it is another matter. Paul believed that those who "have shipwrecked their faith" could profit by the retributive experiences to which they were exposed as a result (1 Tim. 1:19–20). But of course the writer of Hebrews was reticent about the issue of subsequent restoration. That some might not respond to the chastisement was perhaps in mind, but he was mainly concerned about warning against the course of action which leads to such calamitous divine judgment. Nevertheless his deft choice of this agricultural image serves to disclose that the "burning" is both temporary and essentially hopeful. – The Bible Knowledge Commentary
AS YOU HAVE LEARNED, IF YOU HAVE BEEN FOLLOWING MY PROFESSOR'S CORNER OF LATE, I HAVE BEEN RESPECTFULLY ARGUING THAT THE BOOK OF HEBREWS WAS ORIGINALLY WRITTEN MAINLY, NOT TO THE EARLY CHURCH, AS MOST BELIEVE, BUT TO JEWISH CHRISTIANS AND THOSE JEWS WHO MAY BE DESCRIBED AS CLOSE-TO-BEING CHRISTIANS. I humbly believe this stimulating (thought-provoking) passage, while it does not exclude Christians, is primarily written to Jewish believers in Jesus who had tasted the blessings of salvation and the New Covenant but, for a variety of reasons not always clear from the text – especially from verses 4-6, were contemplating falling away from their new faith and returning to the old covenant of Judaism.
CONSEQUENTLY, THIS WEEK'S BLOG WILL FOCUS ON MACARTHUR'S COMMENTARY ON HEBREWS AND HIS SUMMARY ACCOUNT OF VERSES 4-6 ENTITLED "A FOURTH WARNING." OF THE FIVE (OR IN MY HUMBLE OPINION, SIX) WARNINGS IN HEBREWS, HEBREWS 6:4-8 IS UNDOUBTEDLY THE MOST SERIOUS. I HAVE FOUND MACARTHUR'S PERSPECTIVE TO BE AN INVALUABLE SOURCE IN MY YEARS OF BOTH PREACHING THROUGH AND SEMINARY TEACHING FROM HEBREWS. WHILE THERE ARE CERTAINLY A NUMBER OF MORE EXEGETICAL COMMENTARIES ON THE MARKET, COMMENTARIES I HAVE READ AND USED REGULARLY OR INTEND TO USE REGULARY IN MY HEBREW BLOGS, I ESPECIALLY VALUE HIS BECAUSE OF ITS CLARITY AND SIMPLICITY. SINCE I AM WRITING A BLOG FOR MY CHURCH NOT A DISSERTATION FOR MY SEMINARY. ALL THINGS CONSIDERED, I BELIEVE IT IS THE PERFECT SOURCE. WITH GRATITUDE, I PRESENT A GREAT PART OF MACARTHUR'S VIEW UNINTERRUPTED…
"STILL SPEAKING TO THE UNSAVED WHO HAVE HEARD THE TRUTH AND ACKNOWLEDGED IT, BUT WHO HAVE HESITATED TO EMBRACE CHRIST, THE HOLY SPIRIT GIVES A FOURTH WARNING, THE CRUX OF 6:1-8. SUMMARIZED, THE WARNING IS: 'YOU HAD BETTER COME TO CHRIST NOW, FOR IF YOU FALL AWAY, IT WILL BE IMPOSSIBLE FOR YOU TO COME AGAIN TO THE POINT OF REPENTANCE.' THEY WERE AT THE BEST POINT FOR REPENTANCE – FULL KNOWLEDGE. TO FALL BACK FROM THAT WOULD BE FATAL.
"BECAUSE THEY BELIEVE THE WARNING IS ADDRESSED TO CHRISTIANS, MANY INTERPRETERS HOLD THAT THE PASSAGE TEACHES THAT SALVATION CAN BE LOST. If this interpretation were true, however, the passage would also teach that, once lost, salvation could never be regained. If, after being saved, a person lost his salvation, he would be damned forever. There would be going back and forth, in and out of grace. BUT CHRISTIANS ARE NOT BEING ADDRESSED, AND IT IS THE OPPORTUNITY FOR RECEIVING SALVATION, NOT SALVATION ITSELF, THAT CAN BE LOST.
"THE BELIEVER NEED NEVER FEAR HE WILL LOSE HIS SALVATION. HE CANNOT. THE BIBLE IS ABSOLUTELY CLEAR ABOUT THAT. JESUS SAID…
NAS  John 10:27-29 "My sheep hear My voice, and I know them, and they follow Me; 28 and I give eternal life to them, and they shall never perish; and no one shall snatch them out of My hand. 29 "My Father, who has given them to Me, is greater than all; and no one is able to snatch them out of the Father's hand.
PAUL IS EQUALLY CLEAR…
NAS  Romans 8:35, 38-39 Who shall separate us from the love of Christ? Shall tribulation, or distress, or persecution, or famine, or nakedness, or peril, or sword? 38 For I am convinced that neither death, nor life, nor angels, nor principalities, nor things present, nor things to come, nor powers, 39 nor height, nor depth, nor any other created thing, shall be able to separate us from the love of God, which is in Christ Jesus our Lord.
NAS  Philippians 1:6 For I am confident of this very thing, that He who began a good work in you will perfect it until the day of Christ Jesus.
AND PETER… WE ARE…
NAS  1 Peter 1:4-5 to obtain an inheritance which is imperishable and undefiled and will not fade away, reserved in heaven for you, 5 who are protected by the power of God through faith for a salvation ready to be revealed in the last time.
"IF THE POWER OF GOD CANNOT KEEP US, NOTHING IS DEPENDABLE OR TRUSTWORTHY OR WORTH BELIEVING IN. A CHRISTIAN HAS NO REASON AT ANY POINT IN HIS LIFE TO BELIEVE THAT HIS SALVATION IS OR CAN BE LOST. IF BY CHRIST'S DEATH WE CAN BE SAVED, CERTAINLY BY HIS LIFE OF POWER AND INTERCESSION WE CAN BE KEPT SAVED…
NAS  Romans 5:10 For if while we were enemies, we were reconciled to God through the death of His Son, much more, having been reconciled, we shall be saved by His life.
"IT IS UNBELIEVERS WHO ARE IN DANGER OF LOSING SALVATION – IN THE SENSE OF LOSING THE OPPORTUNITY EVER TO RECEIVE IT.                   
"THE UNBELIEVING JEWS WERE IN GREAT DANGER, BECAUSE OF THEIR SPIRITUAL IMMATURITY AND SLUGGISHNESS, OF TURNING BACK TO JUDAISM AND OF NEVER BEING ABLE TO REPENT AND COME TO CHRIST. THEY WOULD BE LOST FOREVER, BECAUSE THEY HAD REJECTED, AT THE MOST VITAL POINT IN KNOWLEDGE AND CONVICTION, THE ONLY GOSPEL THAT COULD SAVE THEM. THERE IS NO OTHER SALVATION MESSAGE THEY COULD HEAR, NO EVIDENCE OF THE TRUTH OF THE GOSPEL THEY HAD NOT SEEN.
"THESE PARTICULAR JEWS HAD EVEN HEARD THE APOSTLES PREACH AND HAD SEEN THEM PERFORM SIGNS AND WONDERS AND MIRACLES…
NAS  Hebrews 2:4 God also bearing witness with them, both by signs and wonders and by various miracles and by gifts of the Holy Spirit according to His own will.
"THEY HAD BEEN PRIVILEGED TO BEHOLD VIRTUALLY ALL THE MANIFESTATIONS OF HIS SAVING WORD AND POWER THAT GOD COULD GIVE. THEY HAD HEARD IT ALL AND SEEN IT ALL. THEY HAD EVEN ACCEPTED IT ALL INTELLECTUALLY. ANY WHO ARE SO INFORMED, SO WITNESSED TO, SO BLESSED WITH EVERY OPPORTUNITY TO KNOW GOD'S GOSPEL, AND WHO TURN THEIR BACKS ON IT – FOR JUDAISM OR ANYTHING ELSE – ARE ETERNALLY LOST. THEY NOT ONLY REJECT THE GOSPEL, BUT CRUCIFY TO THEMSELVES THE SON OF GOD, AND PUT HIM TO OPEN SHAME. THEY HAD EITHER TO GO ON TO FULL KNOWLEDGE OF GOD THROUGH FAITH IN CHRIST OR ELSE TURN AWAY FROM HIM, AND TO BECOME APOSTATE AND BE LOST FOREVER. THERE WAS NO OTHER ALTERNATIVE."
NAS  Hebrews 10:29 How much severer punishment do you think he will deserve who has trampled under foot the Son of God, and has regarded as unclean the blood of the covenant by which he was sanctified, and has insulted the Spirit of grace?
WELL, THAT'S HOW I SEE IT…. HUMBLY, RECOGNIZING I COULD BE WRONG AND RESPECTFUL OF ALL WHO MAY DISAGREE, I AM IN FULL AGREEMENT WITH MACARTHUR; I BELIEVE THE AUTHOR IS NOT ADDRESSING THE CHURCH IN HEBREWS 6:4-8 BUT JEWS WHO WERE IN VARIOUS STAGES OF BELIEF AND UNBELIEF ABOUT JESUS.
NEXT WEEK'S BLOG WILL BE THE FINAL CONCLUSION OF MY 10-PART STUDY OF THIS MOST "DIFFICULT" PASSAGE
– Professor Thomas A. Rohm