The Peril of Not Progressing – Part 8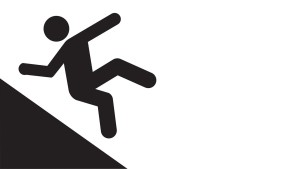 HEBREWS 6:4-8
AFTER A WEEK OF ADDITIONAL READING AND THINKING ABOUT WHAT GOD IS SAYING TO US IN HEBREWS 6:4-8 I FEEL READY TO COMPLETE MY STUDIED REMARKS ON THIS EXTREMELY DIFFICULT AND LONG-DEBATED PASSAGE, CERTAINLY ONE THE MOST CHALLENGING IN THE ENTIRE BIBLE…
NAS  Hebrews 6:4-8 For in the case of those who have once been enlightened and have tasted of the heavenly gift and have been made partakers of the Holy Spirit, 5 and have tasted the good word of God and the powers of the age to come, 6 and then have fallen away, it is impossible to renew them again to repentance, since they again crucify to themselves the Son of God, and put Him to open shame. 7 For ground that drinks the rain which often falls upon it and brings forth vegetation useful to those for whose sake it is also tilled, receives a blessing from God; 8 but if it yields thorns and thistles, it is worthless and close to being cursed, and it ends up being burned.
AS I HAVE BEEN DOING EACH WEEK IN PARTS 1-7, MAINLY DUE TO THE DIFFICULTY OF THE PASSAGE, I AM INCLUDING THIS PARAGRAPH FROM THE BIBLE KNOWLEDGE COMMENTARY AS BOTH AN INTRODUCTION TO THE CURRENT BLOG AND A REVIEW, NOW ALSO BEGINNING A CONCLUSION, OF CHAPTER 6…
6:4–6. This passage has been interpreted in four ways: (1) that the danger of a Christian losing his salvation is described, a view rejected because of biblical assurances that salvation is a work of God which cannot be reversed; (2) that the warning is against mere profession of faith short of salvation, or tasting but not really partaking of salvation (The New Scofield Reference Bible, p. 1315); (3) that hypothetically if a Christian could lose his salvation, there is no provision for repentance (The Ryrie Study Bible, p. 1736); (4) that a warning is given of the danger of a Christian moving from a position of true faith and life to the extent of becoming disqualified for further service (1 Cor. 9:27) and for inheriting millennial glory. The latter is the interpretation adopted here. The entirety of these verses constitutes a single sentence in Greek as well as in the English of the NIV. The central assertion is: It is impossible for those who have … to be brought back to repentance. Following the words "those who" is a description of the persons whom the writer affirmed cannot possibly be brought back to a state of repentance. The description he gave shows that he had Christians in mind.
6:7–8. An illustration from nature now drives home the writer's point. Whenever rain-soaked ground is properly productive, it receives the blessing of God. Here the writer compared the spiritual privileges he had just enumerated (vv. 4–5) to a heavenly rain descending on the life of a Christian. Their effect should be a crop useful to those for whom it is farmed—a reference perhaps to the way other Christians benefit from the lives of fruitful believers (cf. v. 10). Such productivity brings divine blessings on fruitful believers' lives.
But suppose the land that has received this "rain" is unproductive? Though the NIV introduces the word land for a second time in verse 8, the original text seems to relate the statement directly to the "land" mentioned in verse 7. A clearer rendering would be: "But when (or, if) it produces thorns and thistles.…" The point is that when a plot of ground that has been rained on is productive, God blesses it. But if it only produces thorns and thistles, it is worthless (adokimos, "disapproved"; cf. 1 Cor. 9:27) and is in danger of being cursed. In the end it will be burned. The metaphor recalls God's original curse on the ground (Gen. 3:17–19) and suggests that an unproductive Christian life ultimately ("in the end") falls under the severe condemnation of God and is subject to His blazing wrath and judgment (cf. Heb. 10:27).
Naturally the reference to "burned" has caused many to think of hell, but there is nothing in the text to suggest this. God's anger against His failing people in the Old Testament is often likened to the burning of fire (cf., e.g., Isa. 9:18–19; 10:17). Even this writer could say, with intense metaphorical effect, "Our God is a consuming fire" (Heb. 12:29). In fact, to think of hell here is to betray inattention to the imagery employed by the author. The burning of a field to destroy the rank growth it had produced was a practice known in ancient times. Its aim was not the destruction of the field itself (which, of course, the fire could not affect), but the destruction of the unwanted produce of the field. Thereafter the field might be serviceable for cultivation.
By choosing this kind of metaphor, the author showed that he did not totally despair of those who took the backward step he was warning against. To be sure, at least prior to severe divine judgment, all efforts to recall such people to Christian faith are futile (6:4–6), but it cannot be said that the impossibility applies in an absolute sense to God Himself. What the author probably meant is that nothing can deter apostates from the fiery retribution toward which they are headed, but once their "land" has been burned it is another matter. Paul believed that those who "have shipwrecked their faith" could profit by the retributive experiences to which they were exposed as a result (1 Tim. 1:19–20). But of course the writer of Hebrews was reticent about the issue of subsequent restoration. That some might not respond to the chastisement was perhaps in mind, but he was mainly concerned about warning against the course of action which leads to such calamitous divine judgment. Nevertheless his deft choice of this agricultural image serves to disclose that the "burning" is both temporary and essentially hopeful. – The Bible Knowledge Commentary
AS YOU HAVE LEARNED, IF YOU HAVE BEEN FOLLOWING MY PROFESSOR'S CORNER OF LATE, I HAVE BEEN RESPECTFULLY ARGUING THAT THE BOOK OF HEBREWS WAS ORIGINALLY WRITTEN MAINLY, NOT TO THE EARLY CHURCH, AS MOST BELIEVE, BUT TO JEWISH CHRISTIANS AND THOSE JEWS WHO MAY BE DESCRIBED AS CLOSE-TO-BEING CHRISTIANS. I humbly believe this stimulating (thought-provoking) passage, while it does not exclude Christians, is primarily written to Jewish believers in Jesus who had tasted the blessings of salvation and the New Covenant but, for a variety of reasons not always clear from the text – especially from verses 4-6, were contemplating falling away from their new faith and returning to the old covenant of Judaism.
THIS WEEK'S BLOG WILL FOCUS ON V. 6…
NAS  Hebrews 6:6 and then have fallen away, it is impossible to renew them again to repentance, since they again crucify to themselves the Son of God, and put Him to open shame.
ESV  Hebrews 6:4 For it is impossible, in the case of those who have once been enlightened, who have tasted the heavenly gift, and have shared in the Holy Spirit, 6 and then have fallen away, to restore them again to repentance, since they are crucifying once again the Son of God to their own harm and holding him up to contempt.
BEFORE I GET INTO THE INTERPRETATION OF THE VERSE ITSELF, I NEED TO MENTION AN IMPORTANT ISSUE BRIEFLY DESCRIBED BELOW BY STEADMAN. "BRIEF" IN THIS CASE SURELY DOES NOT MEAN EASY…
"HUGHES STATES, 'THE TENSES OF THE GREEK PARTICIPLES ARE SIGNIFICANT: the aorist participle παραπεσόντας (pa-ra-pe-son-tas – translated "having fallen away" – TAR) indicates a decisive moment of commitment to apostasy, the point of no return; the present participles ἀνασταυροῦντας (a-nas-tau-rune-tas – "crucifying again") and παραδειγματίζοντας (pa-ra-dieg-ma-tid-zon-tas – "holding [him] up to contempt") indicate the continuing state of those who have once lapsed into apostasy: they keep on crucifying the Son of God and holding Him up to contempt. Some have understood the latter part of this verse to be a temporal statement ("It is impossible to renew them again unto repentance while or so long as they crucify to themselves the Son of God") rather than a causal one ("It is impossible to renew them again unto repentance because they crucify. Bruce says of this, "To say that they cannot be brought to repentance so long as they persist in their renunciation of Christ would be a truism hardly worth putting into words."
"APOSTASY" MAY BE SIMPLY DEFINED AS FALLING AWAY FROM WHERE YOU ONCE STOOD.
ALL THIS TO SAY, THIS IS INDEED A GRAVE SITUATION THAT VERSES 4-6 ARE DESCRIBING.
AS I HAVE BEEN STRIVING TO DO ALL ALONG SINCE I FIRST STARTED THIS HEBREWS BLOG, I HAVE SELECTED FROM A LARGE NUMBER OF TOP COMMENTARIES EXCERPTS THAT ARE INTENDED TO GIVE YOU AN ACCURATE SENSE OF THE DISAGREEMENTS THAT HAVE BEEN VOICED OVER THE CENTURIES AND STILL RAGE EVEN TODAY.
NOW THE CONTRASTIVE INTERPRETATIONS OF HEBREWS 6:6…
"VERSE 6 DESCRIBES THE GRIM RESULT OF TURNING BACK TO UNBELIEF AFTER RECEIVING THE FULL ENLIGHTENMENT PROVIDED. REPENTANCE IS THE GATEWAY TO ETERNAL LIFE, AS MANY SCRIPTURES MAKE CLEAR. After being brought by Spirit-given blessings of verses 4-5 to the very edge of repentance, those who fall back into unbelief cannot be brought to that same place again, since nothing more could be added to that which proved insufficient before. THEIR STATE IS NOW HOPELESS. As Bruce cogently observes, 'God has pledged Himself to pardon all who repent, but Scripture and experience alike suggest that it is possible for human beings to arrive at a state of heart and life where they can no longer repent. What blocks their way of return is that they have put themselves into the position of those who deliberately reused Jesus' claim to be the Son of God and forced Him to the shame and humiliation of the cross. THEY FALL AWAY DELIBERATELY, UNWILLING TO SEPARATE THEMSELVES FROM THOSE WHO ACTUALLY CONDEMNED JESUS TO BE CRUCIFIED. THEIR HEARTS ARE HARDENED IN FLINTLIKE DETERMINATION TO HAVE THINGS THEIR OWN REBELLIOUS WAY. VERSES 7-8 (which we will be studying shortly – TAR) ILLUSTRATE THEIR SAD SITUATION EXACTLY." – Steadman
I APPRECIATE THE DIRECTNESS OF GUTHRIE'S WORDS ON THE OFTEN MENTIONED BUT SELDOM, IN MY OPINION, UNDERSTOOD SUBJECT OF REPENTANCE (repentance may be quickly and briefly defined as a conscious change of mind for the purpose of changing one's behavior): "In 6:1 the author has identified 'repentance' as foundational in Christian teaching. In the view of the author of Hebrews true repentance can be experienced only in the shadow of Christ's sacrifice, since there exists no other valid sacrifice for sin…
NAS  Hebrews 10:18 Now where there is forgiveness of these things, there is no longer any offering for sin.
NAS  Hebrews 10:26 For if we go on sinning willfully after receiving the knowledge of the truth, there no longer remains a sacrifice for sins,
"In the Jewish literature of the day, repentance was God's gift, and Hebrews has taken that thought as specifically incarnated in the person and work of the Son of God. REPENTANCE IN 6:4-6 IS 'IMPOSSIBLE' BECAUSE THERE IS NOWHERE ELSE TO GO FOR REPENTANCE ONCE ONE HAS REJECTED CHRIST. THE APOSTATE IN EFFECT HAS TURNED HIS OR HER BACK ON THE ONLY MEANS AVAILABLE FOR FORGIVENESS BEFORE GOD." – Guthrie
IN MY READING THIS WEEK FOCUSING ON VERSE 6, THESE PARAGRAPHS BY LEON MORRIS WERE SOME OF THE MORE PROMINENT THAT OCCUPIED MY THOUGHTS…
"'IF THEY FALL AWAY' MEANS 'FALL AWAY' FROM CHRISTIANITY. The Greek verb is found only here in the NT, and its meaning is clear. The writer is envisioning people who have been numbered among the followers of Christ but now leave (or are seriously contemplating leaving – TAR) that company. Such cannot be brought back to repentance. Notice that he does not say 'cannot be forgiven' or 'cannot be restored to salvation' or the like. It is repentance that is in mind, and the writer says that it is impossible for these people to repent. This might mean that the repentance that involves leaving a whole way of life to embrace the Christian way is unique. In the nature of the case, it cannot be repeated. There is no putting the clock back. But it seems more likely that the reference is to a repentance that means leaving the backsliding into which the person has fallen. He cannot bring himself to this repentance. The marginal reading 'while they are crucifying the Son of God' is attractive, but in the end it really amounts to a truism, and scarcely seems adequate. The tense, however, does convey the idea of a continuing attitude. It is probable that we should take the verb rendered 'are crucifying… all over again' as simply 'crucifying.' Elsewhere it seems always to have this meaning. THE AUTHOR IS SAYING THAT THOSE WHO DENY CHRIST IN THIS WAY ARE REALLY TAKING THEIR STAND AMONG THOSE WHO CRUCIFIED JESUS. In heart and mind they make themselves one with those who put Him to death on the cross at Calvary. 'To themselves'; NIV, 'to their loss') points to this inward attitude. THE FINAL WORDS OF V. 6 STRESS WHAT THIS ATTITUDE MEANS.
"THERE HAS BEEN MUCH DISCUSSION OF THE SIGNIFICANCE OF THIS PASSAGE. SOME THINK THAT THE AUTHOR IS SPEAKING ABOUT GENUINE CHRISTIANS WHO FALL AWAY AND THAT HE DENIES THAT THEY MAY NEVER COME BACK. THIS VIEW SETS THE WRITER OF THE EPISTLE IN CONTRADICTION WITH OTHER NT WRITERS FOR WHOM IT IS CLEAR THAT THE PERSEVERANCE OF THE SAINTS IS SOMETHING THAT COMES FROM GOD AND NOT FROM THEIR OWN BEST EFFORTS…
NAS  John 6:37 "All that the Father gives Me shall come to Me, and the one who comes to Me I will certainly not cast out.
NAS  John 10:27-29 "My sheep hear My voice, and I know them, and they follow Me; 28 and I give eternal life to them, and they shall never perish; and no one shall snatch them out of My hand. 29 "My Father, who has given them to Me, is greater than all; and no one is able to snatch them out of the Father's hand.
"OTHERS THINK THAT THE CASE IS PURELY HYPOTHETICAL. Because the writer does not say that this has ever happened, they infer that it never really could happen and that put it this way makes the warning more impressive. BUT UNLESS THE WRITER IS SPEAKING ABOUT SOMETHING THAT COULD REALLY BE, IT IS NOT A WARNING ABOUT ANYTHING. GRANTED, HE DOES NOT SAY THAT ANYONE HAS APOSTASIZED IN THIS WAY, NEVERTHELESS, HE SURELY MEANS THAT SOMEONE COULD, AND HE DOES NOT WANT HIS READERS TO DO SO.
"A THIRD POSSIBILITY IS THAT THE WRITER IS TALKING ABOUT WHAT LOOKS VERY MUCH LIKE THE REAL THING BUT LACKS SOMETHING. THE CASE OF SIMON MAGUS SPRINGS TO MIND. He is said to have believed, to have been baptized, and to have continued with Philip…
NAS  Acts 8:13 And even Simon himself believed; and after being baptized, he continued on with Philip; and as he observed signs and great miracles taking place, he was constantly amazed.
"PRESUMABLY HE SHARED IN THE LAYING ON OF HANDS AND THE GIFT GIVEN BY IT. YET AFTER ALL THIS PETER COULD SAY TO HIM, 'YOUR HEART IS NOT RIGHT BEFORE GOD… YOU ARE FULL OF BITTERNESS AND CAPTIVE TO SIN' ACTS 8:21-23. THE WRITER IS SAYING THAT WHEN PEOPLE HAVE ENTERED INTO THE CHRISTIAN EXPERIENCE FAR ENOUGH TO KNOW WHAT IT IS ALL ABOUT AND HAVE TURNED AWAY, THEN, AS FAR AS THEY THEMSELVES ARE CONCERNED, THEY ARE CRUCIFYING CHRIST. IN THAT STATE THEY CANNOT REPENT." – Morris
NEXT WEEK THE CONCLUSION OF THIS AMAZING AND CHALLENGING PASSAGE, HEBREWS 6:4-6, I THINK.
– Professor Thomas A. Rohm