The Peril of Not Progressing – Part 6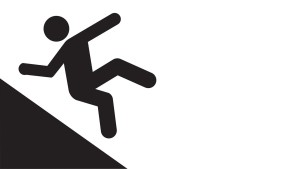 HEBREWS 6:4-8
NAS  Hebrews 6:4-8 For in the case of those who have once been enlightened and have tasted of the heavenly gift and have been made partakers of the Holy Spirit, 5 and have tasted the good word of God and the powers of the age to come, 6 and then have fallen away, it is impossible to renew them again to repentance, since they again crucify to themselves the Son of God, and put Him to open shame. 7 For ground that drinks the rain which often falls upon it and brings forth vegetation useful to those for whose sake it is also tilled, receives a blessing from God; 8 but if it yields thorns and thistles, it is worthless and close to being cursed, and it ends up being burned.
AS I HAVE BEEN DOING EACH WEEK IN PARTS 1-5, MAINLY DUE TO THE DIFFICULTY OF THE PASSAGE, I AM INCLUDING THIS PARAGRAPH FROM THE BIBLE KNOWLEDGE COMMENTARY AS BOTH AN INTRODUCTION TO THE CURRENT BLOG AND A REVIEW…
6:4–6. This passage has been interpreted in four ways: (1) that the danger of a Christian losing his salvation is described, a view rejected because of biblical assurances that salvation is a work of God which cannot be reversed; (2) that the warning is against mere profession of faith short of salvation, or tasting but not really partaking of salvation (The New Scofield Reference Bible, p. 1315); (3) that hypothetically if a Christian could lose his salvation, there is no provision for repentance (The Ryrie Study Bible, p. 1736); (4) that a warning is given of the danger of a Christian moving from a position of true faith and life to the extent of becoming disqualified for further service (1 Cor. 9:27) and for inheriting millennial glory. The latter is the interpretation adopted here. The entirety of these verses constitutes a single sentence in Greek as well as in the English of the NIV. The central assertion is: It is impossible for those who have … to be brought back to repentance. Following the words "those who" is a description of the persons whom the writer affirmed cannot possibly be brought back to a state of repentance. The description he gave shows that he had Christians in mind. – The Bible Knowledge Commentary
"A FOURTH MARK OF SPIRITUAL PROGRESS IS TO 'HAVE TASTED THE GOODNESS OF THE WORD OF GOD.' SINCE IT IS BY THE 'LIVING AND ENDURING WORD OF GOD' THAT MEN AND WOMEN ARE BORN AGAIN…
ESV  1 Peter 1:23 since you have been born again, not of perishable seed but of imperishable, through the living and abiding word of God;
"…IT IS NECESSARY TO HEAR IT FIRST, AND THEN 'TASTE' ITS GOODNESS. THE READERS OF THIS EPISODE HAD DONE THIS, BUT THERE IS NO INDICATION IN THIS PHRASE THAT THEY HAVE RESPONDED WITH PERSONAL FAITH. SOME VERY LIKELY HAVE, BUT OTHERS HAVE STOPPED SHORT OF THE GOAL. AND THIS HAS AROUSED THE CONCERN OF THE WRITER." – Steadman
SCHREINER, AGAIN, SEES IT DIFFERENTLY, BUT IT IS NOTABLE THAT THIS TIME, DIFFERENT FROM HIS PREVIOUS COMMENTS WHICH STRONGLY SUPPORTED HIS ARGUMENT FOR THE ORIGINAL RECIPIENTS OF THIS PASSAGE BEING BELIEVERS, HE SEEMS TO RECOGNIZE THE POSSIBILITY OF ANOTHER INTERPRETATION…
I FIND THIS A SIGNIFICANT IF TACIT CONCESSION. HERE IS WHAT SCHREINER WRITES…
"FOURTH, THOSE DESCRIBED 'TASTED GOD'S GOOD WORD.' The word 'taste' (γεύομαι geu-a-my) is the same word investigated in the previous verse. Perhaps there is a reference to the good promises of God that were fulfilled during Joshua's days…
NAS  Joshua 21:43 So the LORD gave Israel all the land which He had sworn to give to their fathers, and they possessed it and lived in it.
NAS  Joshua 23:15 "And it shall come about that just as all the good words which the LORD your God spoke to you have come upon you, so the LORD will bring upon you all the threats, until He has destroyed you from off this good land which the LORD your God has given you.
Compare also…
NAS  Nehemiah 9:13 "Then Thou didst come down on Mount Sinai, And didst speak with them from heaven; Thou didst give to them just ordinances and true laws, Good statutes and commandments.
"BUT THE PARALLEL ISN'T TERRIBLY ILLUMINATING OR EVEN CLOSELY MATCHED IN WORDING. Here the author they fully ingested God's word by receiving the gospel of Jesus Christ. It is this 'word' that the leaders taught them as new believers…
NAS  Hebrews 13:7 Remember those who led you, who spoke the word of God to you; and considering the result of their conduct, imitate their faith.
"AGAIN THERE IS NOTHING TO SUGGEST THAT THEIR INITIAL RECEPTION WAS FALSE OR SUPERFICIAL. INSTEAD, THE AUTHOR REMINDS THEM ELSEWHERE OF THEIR LOVE AND SERVICE TO THE SAINTS AT THE BEGINNING…
NAS  Hebrews 6:10 For God is not unjust so as to forget your work and the love which you have shown toward His name, in having ministered and in still ministering to the saints.
"HE RECALLS THEIR EARLY SUFFERINGS, AND THEIR SOLIDARITY WITH OTHERS WHO SUFFERED, AND THEIR JOY WHEN STRIPPED OF THEIR POSSESSIONS…
NAS  Hebrews 10:32-34 But remember the former days, when, after being enlightened, you endured a great conflict of sufferings, 33 partly, by being made a public spectacle through reproaches and tribulations, and partly by becoming sharers with those who were so treated. 34 For you showed sympathy to the prisoners, and accepted joyfully the seizure of your property, knowing that you have for yourselves a better possession and an abiding one.
"HE DOESN'T CAST DOUBTS UPON THEIR RECEPTION OF THE WORD BUT WARNS THOSE WHO INITIALLY EMBRACED IT." – Schreiner
MACARTHUR, WHO YOU REMEMBER DOES NOT BELIEVE THE AUTHOR OF HEBREWS IS ADDRESSING BELIEVERS HERE, MAKES THESE COMMENTS ON V. 5…
 "AGAIN THESE READERS ARE SPOKEN OF AS HAVING TASTED SOMETHING OF GOD, THIS TIME HIS WORD. THE GREEK TERM USED HERE FOR 'WORD' (ῥῆμα rhe-ma, WHICH EMPHASIZES THE PARTS RATHER THAN THE WHOLE) IS NOT THE USUAL ONE (λόγος lo-gos, correctly pronounced lah-ghas) FOR GOD'S WORD, BUT IT FITS THE MEANING OF THE CONTEXT. AS WITH HIS HEAVENLY GIFTS, THEY HAD HEARD GOD'S UTTERANCES AND SAMPLED THEM, TASTED THEM, WITHOUT ACTUALLY EATING THEM. They had been taught about God. No doubt they regularly came to the assembly of the church. They may have listened carefully and even thought carefully about what they heard. They took it all in. possibly with enthusiasm and appreciation. But they could not say with Jeremiah…
NAS  Jeremiah 15:16 Thy words were found and I ate them, And Thy words became for me a joy and the delight of my heart; For I have been called by Thy name, O LORD God of hosts.
"TASTING IS THE FIRST STEP TO EATING. It is not wrong to taste God's Word. In fact David encourages that very thing…
NAS  Psalm 34:8 O taste and see that the LORD is good; How blessed is the man who takes refuge in Him!
"TO SOME DEGREE, EVERYONE MUST TASTE THE GOSPEL BEFORE HE ACCEPTS IT. THE PROBLEM IS STOPPING WITH TASTING. Like so many who hear the gospel for the first time, these Jews were attracted to its beauty and sweetness. It tasted very good to them. But they did not chew it or swallow it, much less digest it. They just kept tasting. Before long, its appealing taste was gone and they became indifferent to it. Their spiritual tastebuds became insensitive and unresponsive. Any person who has heard the gospel and perhaps made a profession of Christ, but who is uncertain of salvation, should take Paul's advice…
ESV  2 Corinthians 13:5 Examine yourselves, to see whether you are in the faith. Test yourselves. Or do you not realize this about yourselves, that Jesus Christ is in you?– unless indeed you fail to meet the test!
"SUCH A PERSON NEEDS TO LEARN IF HE HAS ONLY TASTED THE GOSPEL WITHOUT EATING IT." – MacArthur  
THUS FAR IN MY CURRENT STUDY OF HEBREWS, IN SPITE OF THE STRONG AND CONVINCING ARGUMENT BY THOSE WHO WOULD DISAGREE, SUCH AS SCHREINER, I WOULD SAY THAT I AM STICKING WITH MY HUMBLE LONG-HELD OPINION, WHICH REMAINS SUBJECT TO CHANGE AT THE INTRODUCTION OF NEW INFORMATION PREVIOUSLY NOT SUFFICIENTLY EXAMINED OR MEDITATED UPON, THAT THE  ORIGINAL RECIPIENTS OF THIS WONDERFUL AND IMMENSELY CHALLENGING EPISTLE/SERMON WRITTEN BY THE UNKNOWN AUTHOR WAS, NOT WITHOUT EXCEPTION, ADDRESSED NOT TO CHRISTIANS BUT TO JEWISH BELIEVERS OR ALMOST-BELIEVERS IN CHRIST WHO WERE TEMPTED FOR A VARIETY OF COMPLEX REASONS TO REVERT TO JUDAISM.                                         
– Professor Thomas A. Rohm