The Peril of Not Progressing – Part 4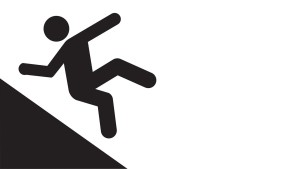 HEBREWS 6:4-8
NAS  Hebrews 6:4-8 For in the case of those who have once been enlightened and have tasted of the heavenly gift and have been made partakers of the Holy Spirit, 5 and have tasted the good word of God and the powers of the age to come, 6 and then have fallen away, it is impossible to renew them again to repentance, since they again crucify to themselves the Son of God, and put Him to open shame. 7 For ground that drinks the rain which often falls upon it and brings forth vegetation useful to those for whose sake it is also tilled, receives a blessing from God; 8 but if it yields thorns and thistles, it is worthless and close to being cursed, and it ends up being burned.
AS I HAVE BEEN DOING EACH WEEK IN PARTS 1-3, I AM INCLUDING THIS PARAGRAPH FROM THE BIBLE KNOWLEDGE COMMENTARY AS BOTH AN INTRODUCTION TO THE CURRENT BLOG AND A REVIEW…
6:4–6. This passage has been interpreted in four ways: (1) that the danger of a Christian losing his salvation is described, a view rejected because of biblical assurances that salvation is a work of God which cannot be reversed; (2) that the warning is against mere profession of faith short of salvation, or tasting but not really partaking of salvation (The New Scofield Reference Bible, p. 1315); (3) that hypothetically if a Christian could lose his salvation, there is no provision for repentance (The Ryrie Study Bible, p. 1736); (4) that a warning is given of the danger of a Christian moving from a position of true faith and life to the extent of becoming disqualified for further service (1 Cor. 9:27) and for inheriting millennial glory. The latter is the interpretation adopted here. The entirety of these verses constitutes a single sentence in Greek as well as in the English of the NIV. The central assertion is: It is impossible for those who have … to be brought back to repentance. Following the words "those who" is a description of the persons whom the writer affirmed cannot possibly be brought back to a state of repentance. The description he gave shows that he had Christians in mind. – The Bible Knowledge Commentary
"THE SECOND DESCRIPTION IS THAT THEY 'HAVE TASTED THE HEAVENLY GIFT.' The gift can be the Holy Spirit (2:4) or Jesus Himself (Jn 4:10; 2 Cor 9:15), since both come from heaven. The mention of the Spirit in the next phrase seems to indicate the gift here is Jesus. Some commentators see the 'tasting' as referring to the sacrament (I personally do not believe Christians should use this Roman Catholic terminology when speaking of the two ordinances of the church: baptism and the Lord's Supper – TAR) of the Lord's Supper, which identifies the elements as the body and blood of Jesus. Those who do have a saving faith would surely observe this sacrament, yet it is quite possible to participate in baptism and the Lord's Supper without actual faith. Even if the reference is not to the Eucharist (another Catholic term, though I believe it is less troublesome, for the Greek word from which we get our English word "eucharist" simply means thanksgiving – TAR), it is still true that ONE CAN HAVE MUCH KNOWLEDGE OF JESUS AND EVEN HAVE 'TASTED' OF HIS BLESSINGS WITHOUT PERSONAL COMMITMENT TO HIM (Jn 2:23-25)." – Steadman
NAS  John 2:23-25 Now when He was in Jerusalem at the Passover, during the feast, many believed in His name, beholding His signs which He was doing. 24 But Jesus, on His part, was not entrusting Himself to them, for He knew all men, 25 and because He did not need anyone to bear witness concerning man for He Himself knew what was in man.
CERTAINLY, THESE VERSES FROM JOHN, AND OTHERS LIKE THEM ESPECIALLY FROM JOHN, SHOULD AT LEAST GIVE US PAUSE BEFORE ASSUMING WITHOUT RESERVATION THAT THE WRITER OF HEBREWS IS PRIMARILY ADDRESSING GENUINE CHRISTIANS.
"IT IS DIFFICULT TO BE SURE WHAT THE WRITER MEANS BY 'GIFT' (THE GREEK WORD δωρεά (dor-ray-a) MEANS PRETTY MUCH WHAT WE WOULD THINK IT MEANS, THAT WHICH IS GIVEN FREELY – TAR). Some see a connection with the gift of manna in the OT, but the parallel doesn't seem terribly clear or illuminating. As Cockerill says, 'One cannot draw significant theological conclusions from such very tenuous OT allusions. Elsewhere in the NT, THE WORD IS USED FOR THE GIFT OF THE HOLY SPIRIT,
NAS  John 4:10 Jesus answered and said to her, "If you knew the gift δωρεά (dor-ray-a)  of God, and who it is who says to you, 'Give Me a drink,' you would have asked Him, and He would have given you living water."
NAS  Acts 2:38 And Peter said to them, "Repent, and let each of you be baptized in the name of Jesus Christ for the forgiveness of your sins; and you shall receive the gift δωρεά (dor-ray-a) of the Holy Spirit.
NAS  Acts 8:20 But Peter said to him, "May your silver perish with you, because you thought you could obtain the gift  δωρεά (dor-ray-a) of God with money!
NAS  Acts 10:45 And all the circumcised believers who had come with Peter were amazed, because the gift δωρεά (dor-ray-a) of the Holy Spirit had been poured out upon the Gentiles also.
NAS  Acts 11:17 "If God therefore gave to them the same gift δωρεά (dor-ray-a) as He gave to us also after believing in the Lord Jesus Christ, who was I that I could stand in God's way?"
"OR THE GIFT OF RIGHTEOUSNESS…
NAS  Romans 5:17 For if by the transgression of the one, death reigned through the one, much more those who receive the abundance of grace and of the gift δωρεά (dor-ray-a) of righteousness will reign in life through the One, Jesus Christ.
"A REFERENCE TO THE HOLY SPIRIT IS POSSIBLE BUT SEEMS UNLIKELY SINCE HE HAD ALREADY MENTIONED THE HOLY SPIRIT IN SUCH CLOSE PROXIMITY…
NAS  Romans 5:5 and hope does not disappoint, because the love of God has been poured out within our hearts through the Holy Spirit who was given to us.
"THE GIFT IS HEAVENLY, I.E., IT IS TRANSCENDENT, COMING DOWN FROM ABOVE. It seems most satisfying to say the author thinks generally of the new life or salvation of his readers. THE WORDS USED GIVE NO INDICATION THAT THE GIFT WAS PARTIAL. INSTEAD, THE GIFT WAS 'HEAVENLY,' IT WAS FROM THE GOD WHO REIGNS OVER ALL.
"SOME HAVE MAINTAINED THAT THE READERS ARE NOT DESCRIBED HERE AS TRULY SAVED BECAUSE THEY 'TASTED (γεύομαι [geu-a-my]) THE HEAVENLY GIFT.' THE METAPHOR OF 'TASTING' COULD SIGNIFY PARTIALITY, FOR WE MAY 'SIP' SOMETHING OR TAKE JUST A TASTE OF SOMETHING WITHOUT SWALLOWING IT DOWN. The word 'taste' does have that meaning in some texts…
NAS  Matthew 27:34 they gave Him wine to drink mingled with gall; and after tasting it, He was unwilling to drink.
"BUT NORMALLY THE WORD 'TASTE' MEANS 'TO EXPERIENCE FULLY' OR IS ANOTHER WAY OF DESCRIBING EATING…
NAS  Matthew 16:28 "Truly I say to you, there are some of those who are standing here who shall not taste (γεύομαι [geu-a-my]) death until they see the Son of Man coming in His kingdom."
NAS  Luke 14:24 'For I tell you, none of those men who were invited shall taste (γεύομαι [geu-a-my]) of my dinner.'"
NAS  John 8:52 The Jews said to Him, "Now we know that You have a demon. Abraham died, and the prophets also; and You say, 'If anyone keeps My word, he shall never taste (γεύομαι [geu-a-my]) of death.'
NAS  Acts 20:11 And when he had gone back up, and had broken the bread and eaten (γεύομαι [geu-a-my]), he talked with them a long while, until daybreak, and so departed.
NOTE THAT THE ENGLISH WORD FOR "EATEN" IS THE GREEK WORD TRANSLATED "TASTE" IN THE OTHER EXAMPLES ABOVE. – TAR
NAS  Acts 23:14 And they came to the chief priests and the elders, and said, "We have bound ourselves under a solemn oath to taste (γεύομαι [geu-a-my]) nothing until we have killed Paul.
NAS  Colossians 2:21 "Do not handle, do not taste (γεύομαι [geu-a-my]), do not touch!"
"MOST IMPORTANT, SCHREINER POINTS OUT, "ELSEWHERE IN HEBREWS THE WORD CLEARLY MEANS TO EXPERIENCE FULLY. "THE AUTHOR REFERS TO JESUS 'TASTING' (γεύομαι [geu-a-my]) DEATH…
NAS  Hebrews 2:9 But we do see Him who has been made for a little while lower than the angels, namely, Jesus, because of the suffering of death crowned with glory and honor, that by the grace of God He might taste (γεύομαι [geu-a-my]) death for everyone.
"CERTAINLY JESUS DID NOT JUST SIP DEATH OR DABBLE WITH IT A BIT. HE DIED! HE EXPERIENCED FULLY ALL THE HORRORS OF DEATH. SO, WHEN THE AUTHOR SAYS THE READERS 'TASTED THE HEAVENLY GIFT,' THE EXPRESSION MOST NATURALLY MEANS THEY EXPERIECED THE SALVATION THAT COMES FROM ABOVE." – Schreiner
I THINK MOST WOULD AGREE SCHREINER'S TAKE ON THIS DIFFICULT PASSAGE IS QUITE WELL-STUDIED AND REASONED EXEGETICALLY FROM SCRIPTURE. SO INDEPTH IS SCHREINER'S WORK THAT IT MAY APPEAR NOTHING LESS THAN FOOLHARDY ON MY PART TO QUESTION IT. YET, IT IS THE VERY NATURE OF THE EXEGETICAL PROCESS TO DO JUST THAT: TO STUDIOUSLY QUESTION. QUESTION EVERYTHING. NOTHING AGAINST ANYONE'S STUDY OR GOOD INTENTION BUT, IN MY VIEW, THOUGH THIS MAY BE TOO EXTREME FOR SOME, YOU CANNOT SERIOUSLY CONSIDER YOURSELF QUALIFIED TO OFFER A MEANINGFUL OPINION ON A BIBLICAL SUBJECT UNTIL YOU HAVE STUDIED THAT SUBJECT THOROUGHLY.
"THIS GROUP NOT ONLY HAD SEEN THE HEAVENLY LIGHT BUT HAD 'TASTED OF THE HEAVENLY GIFT.' …The greatest heavenly gift, of course, is Christ Himself…
NAS  2 Corinthians 9:15 Thanks be to God for His indescribable gift!
"AND THE SALVATION HE BROUGHT…
NAS  Ephesians 2:8 For by grace you have been saved through faith; and that not of yourselves, it is the gift of God;
"CHRIST'S SALVATION IS THE SUPREME HEAVENLY GIFT, AND NO DOUBT THE ONE REFERRED TO HERE.
"THIS GREAT GIFT, HOWEVER, WAS NOT RECEIVED. It was not accepted or lived, only examined. That stands in contrast with Jesus' work on our behalf. Having tasted death for every man (Heb. 2:9, above), He went on to drink it all. Jesus told the woman at Jacob's well (John 4:10, above)…
NAS  John 4:14 but whoever drinks of the water that I shall give him shall never thirst; but the water that I shall give him shall become in him a well of water springing up to eternal life."
"JESUS WAS SPEAKING OF THE GIFT OF SALVATION, THE 'LIVING WATER' THAT LEADS TO 'ETERNAL LIFE.' THOSE WHO DRANK IT – NOT SIPPED OR JUST TASTED IT BUT DRANK IT – WOULD BE SAVED. A short time later in Galilee, Jesus told His hearers…
NAS  John 6:51 "I am the living bread that came down out of heaven; if anyone eats of this bread, he shall live forever; and the bread also which I shall give for the life of the world is My flesh."
"ETERNAL LIFE COMES FROM EATING, NOT SIMPLY TASTING. God's gift of salvation in Christ.
"ONE OF THE PRESERVATION MINISTRIES OF THE HOLY SPIRIT IS THAT OF GIVING THE UNSAVED A TASTE OF THE BLESSINGS OF SALVATION. THIS IS PART OF HIS MINISTRY OF DRAWING MEN TO CHRIST. BUT TASTING IS NOT EATING. The Holy Spirit will give us a taste, but He will not make us eat. God placed the blessing of salvation to the lips of these New Testament Jews, but they had not eaten. the testing came from what they saw and heard, as many today have seen the transforming of Christ and heard the gospel." – MacArthur
AFTER STUDYING THIS MAJOR QUESTION OF THE BOOK OF HEBREWS AT LENGTH AS I HAVE, I BELIEVE "TASTING" IS THE PERFECT WORD FOR THE ALMOST-BUT-NOT-QUITE STATE OF MILLIONS OF UNSAVED SOULS THROUGHOUT THE CENTURIES UNTIL TODAY WHO HAVE "TASTED" BUT NOT "EATEN" OF THE GOSPEL OF THE LORD JESUS CHRIST.
THERE YOU HAVE TWO TOP-NOTCH BIBLE SCHOLARS WHO HAVE STUDIED THE SAME QUESTION IN-DEPTH AND HAVE COME AWAY WITH DIAMETRICALLY DIFFERENT VIEWS. SUCH IS THE NATURE OF THE EXEGETICAL PROCESS. WHEN THIS SITUATION OCCURS – WHICH OFTEN DOES – MY HUMBLE OPINION IT THAT THERE IS NOTHING WRITTEN IN STONE THAT SAYS YOU MUST CHOOSE ONE VIEW AT THE EXCLUSION OF THE OTHER. I RESPECTFULLY SAY YOU ARE FREE IN SUCH CASES TO CHOOSE BOTH. IN SUCH CASES I SUGGEST IT IS THE WISEST COURSE OF ACTION TO GO WITH "BOTH AND" RATHER THAN "EITHER OR."
                                                                                    – Professor Thomas A. Rohm