The Peril of Not Progressing – Part 3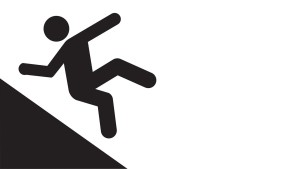 HEBREWS 6:4-8
NAS  Hebrews 6:4-8 For in the case of those who have once been enlightened and have tasted of the heavenly gift and have been made partakers of the Holy Spirit, 5 and have tasted the good word of God and the powers of the age to come, 6 and then have fallen away, it is impossible to renew them again to repentance, since they again crucify to themselves the Son of God, and put Him to open shame. 7 For ground that drinks the rain which often falls upon it and brings forth vegetation useful to those for whose sake it is also tilled, receives a blessing from God; 8 but if it yields thorns and thistles, it is worthless and close to being cursed, and it ends up being burned.
6:4–6. This passage has been interpreted in four ways: (1) that the danger of a Christian losing his salvation is described, a view rejected because of biblical assurances that salvation is a work of God which cannot be reversed; (2) that the warning is against mere profession of faith short of salvation, or tasting but not really partaking of salvation (The New Scofield Reference Bible, p. 1315); (3) that hypothetically if a Christian could lose his salvation, there is no provision for repentance (The Ryrie Study Bible, p. 1736); (4) that a warning is given of the danger of a Christian moving from a position of true faith and life to the extent of becoming disqualified for further service (1 Cor. 9:27) and for inheriting millennial glory. The latter is the interpretation adopted here. The entirety of these verses constitutes a single sentence in Greek as well as in the English of the NIV. The central assertion is: It is impossible for those who have … to be brought back to repentance. Following the words "those who" is a description of the persons whom the writer affirmed cannot possibly be brought back to a state of repentance. The description he gave shows that he had Christians in mind. – The Bible Knowledge Commentary
WHEN I STATE THAT I BELIEVE THE WRITER'S AUDIENCE WAS PRIMARILY JEWISH CHRISTIAN, THAT, OF COURSE, IS NOT TO SAY EXCLUSIVELY. THE ORIGINAL RECIPIENTS, WHILE VERY WELL MAY HAVE BEEN MAINLY JEWISH, ARE BEST DESCRIBED, AS STEADMAN DOES WELL, AS BEING A MIXED GROUP COMPRISED OF PEOPLE FROM THE BROAD SPECTRUM OF VARIOUS STAGES OF BELIEF AND SPIRITUAL REALIZATION.
WE NOW PICK UP WHERE WE LEFT OFF LAST WEEK, ABOUT TO STUDY MACARTHUR'S VIEW OF THE ORIGINAL RECIPIENTS OF THE LETTER TO THE HEBREWS AND ANCILLARY COMMENTS…
"THE HEBREWS BEING ADDRESSED HERE HAD FIVE GREAT ADVANTAGES, WHICH ARE SUMMARIZED IN VV. 4-5… 'THEY HAD BEEN ENLIGHTENED.'
"FIRST OF ALL, WE SHOULD NOTICE THAT THIS PASSAGE MAKES NO REFERENCE AT ALL TO SALVATION. There is no mention of justification, sanctification, the new birth, or regeneration. Those 'WHO HAVE ONCE BEEN ENLIGHTENED' are not spoken of as being born again, or made righteous. None of the New Testament terminology for salvation is used. In fact, no term used here is ever used elsewhere in the New Testament for salvation, and none should be taken to refer to it in this passage.
"THE ENLIGHTENMENT SPOKEN OF HERE HAS TO DO WITH INTELLECTUAL PERCEPTION OF SPIRITUAL, BIBLICAL TRUTH. In the Septuagint (the Greek translation of the Hebrew text of the Old Testament – 3rd century B.C. – TAR), the Greek word (photizo) several times is translated 'to give light by knowledge or teaching.' It means to be mentally aware of something, to be instructed, informed. It carries no connotation of response – of acceptance or rejection, belief or disbelief.
"WHEN JESUS FIRST CAME TO GALILEE TO MINISTER, HE DECLARED THAT HE HAD COME TO FULFILL THE PROPHECY OF ISAIAH 9:1-2…
NAS  Isaiah 9:1-2 But there will be no more gloom for her who was in anguish; in earlier times He treated the land of Zebulun and the land of Naphtali with contempt, but later on He shall make it glorious, by the way of the sea, on the other side of Jordan, Galilee of the Gentiles. 2 The people who walk in darkness Will see a great light; Those who live in a dark land, The light will shine on them.
NAS  Matthew 4:16 "The people who were sitting in darkness saw a great light, And to those who were sitting in the land and shadow of death, Upon them a light dawned."
"ALL WHO SAW AND HEARD JESUS SAW THIS 'GREAT LIGHT,' BUT NOT ALL WHO SAW AND HEARD WERE SAVED. Seeing God's light and accepting it are not the same. Those people in Galilee, as all people who hear the gospel, were to some extent or other enlightened; but, judging by the biblical accounts, few of them believed in Jesus. They had natural knowledge, factual information. They saw Christ, they heard His message from His own lips, they saw His miracles with their own eyes. They had firsthand opportunity that only a few thousand people in all of history have had. The light of the gospel had personally broken in on their darkness…
NAS  John 12:35-36 Jesus therefore said to them, "For a little while longer the light is among you. Walk while you have the light, that darkness may not overtake you; he who walks in the darkness does not know where he goes. 36 "While you have the light, believe in the light, in order that you may become sons of light." These things Jesus spoke, and He departed and hid Himself from them.
"Life for them could never be the same again. Their lives were permanently affected by the indelible impression Jesus must have made on them. Yet many, if not most, of them did not believe in Him…
NAS  John 12:37-40 But though He had performed so many signs before them, yet they were not believing in Him; 38 that the word of Isaiah the prophet might be fulfilled, which he spoke, "LORD, who has believed our report? And to whom has the arm of the Lord been revealed?" 39 For this cause they could not believe, for Isaiah said again, 40 "He has blinded their eyes, and He hardened their heart; lest they see with their eyes, and perceive with their heart, and be converted, and I heal them."
"THE SAME THING HAD HAPPENED TO THE JEWS BEING ADDRESSED IN HEBREWS 6:1-8. THEY WERE ENLIGHTENED BUT NOT SAVED. Consequently, they were in danger of losing all opportunity of being saved, and of becoming apostate. It is of such people that Peter speaks in his second letter…
NAS  2 Peter 2:20-21 For if after they have escaped the defilements of the world by the knowledge of the Lord and Savior Jesus Christ, they are again entangled in them and are overcome, the last state has become worse for them than the first. 21 For it would be better for them not to have known the way of righteousness, than having known it, to turn away from the holy commandment delivered to them.
"BECAUSE OF THEIR UNBELIEF, THE LIGHT THAT WAS GIVEN TO SAVE THEM BECAME A JUDGMENT AGAINST THEM." – MacArthur
 I, FOR ONE, CONSIDER THAT A VERY STRONG ARGUMENT. I WOULD LIST THAT CALVINISTIC, EXEGETICAL ARGUMENT DIRECTLY FROM SCRIPTURE TO BE ALL BUT INARGUABLE AND A CONVINCING SUPPORT FOR MY STUDIED BELIEF THAT THE BOOK OF HEBREWS WAS WRITTEN MAINLY TO JEWISH CHRISTIANS.
HOWEVER, SCHREINER, WHOSE COMMENTARY ON HEBREWS I GREATLY VALUE, TAKES THE OPPOSITE VIEW AND POSES A STRONG CASE FOR THE ORIGINAL RECIPIENTS PRINCIPLY BEING CHRISTIAN…
"TO WHOM IS THE WARNING ADDRESSED? The author describes the recipients of the warning in five ways in verses 4-5. As Lane (another high quality, solid exegete whom I respect tremendously – TAR) says, 'The recital of what occurred with the reception of the gospel does not describe a succession of salvific events but the one event of salvation that is viewed from different aspects and manifestations,' The central dispute is whether those addressed are described as Christians or as those who are almost Christians. I WILL ARGUE HERE THAT THE LANGUAGE USED POINTS TO CHRISTIANS.
"SOME MAINTAIN THAT A MIXED AUDIENCE COMPOSED OF BOTH BELIEVERS AND UNBELIEVERS IS ADDRESSED.  SUCH AN OBSERVATION IS ALMOST CERTAINLY TRUE ON ONE LEVEL. It is difficult to believe that every single person in the congregation was truly a believer. Such an observation, however, skirts the fundamental question the text raises, and that question should still be answered. THE QUESTION THAT MUST BE RESOLVED IS WHETHER THE AUTHOR DESCRIBES THE RECIPIENTS AS BELIEVERS OR UNBELIEVERS. When we look at the specific terms the author uses, does he address his readers as believers or as those who were almost but not quite believers? No doubt the audience was mixed, but the question being asked here is how the author describes he readers, and I WILL ARGUE THAT HE DESCRIBES THEM AS CHRISTIANS. HE DOESN'T ADDRESS THEM AS A MIXED AUDIENCE.
"… THE READERS ARE DESCRIBED AS THOSE WHO HAVE RECEIVED THE HOLY SPIRIT AND AS THOSE WHO ARE SANCTIFIED…
NAS  Hebrews 10:29 How much severer punishment do you think he will deserve who has trampled under foot the Son of God, and has regarded as unclean the blood of the covenant by which he was sanctified, and has insulted the Spirit of grace?
"THERE IS NO CLEARER MARK IN THE NT THAT ONE IS A BELIEVER THAN RECEIVING THE HOLY SPIRIT…
NAS  Hebrews 6:4 For in the case of those who have once been enlightened and have tasted of the heavenly gift and have been made partakers of the Holy Spirit,
"…SO THERE ARE EXCELLENT REASONS FOR THINKING BELIEVERS ARE ADDRESSED HERE.
"…THE WORD 'ENLIGHTENED' (φωτίζω [pho-teed-zo]) IS ALSO USED IN HEB 10:32…
NAS  Hebrews 10:32 But remember the former days, when, after being enlightened, you endured a great conflict of sufferings,
"THE AUTHOR THINKS BACK TO PREVIOUS EXPERIENCES OF THE READERS. In 10:32, then, the word 'enlightened' naturally refers to the conversion of the readers, for the most natural interpretation is that the readers suffered after turning to God in faith and repentance. Neither in 10:32 nor in 6:4 does the author hint in any way that they were 'almost enlightened.' Elsewhere in the NT conversion is portrayed in terms of light shinning on one so that they truly see the truth (2 Cor 4:4-6)." – Schreiner
NAS  2 Corinthians 4:4-6 in whose case the god of this world has blinded the minds of the unbelieving, that they might not see the light of the gospel of the glory of Christ, who is the image of God. 5 For we do not preach ourselves but Christ Jesus as Lord, and ourselves as your bond-servants for Jesus' sake. 6 For God, who said, "Light shall shine out of darkness," is the One who has shone in our hearts to give the light of the knowledge of the glory of God in the face of Christ.
I THINK YOU'LL AGREE SCHREINER'S ARGUMENT IS VERY PERSUASIVE. HEBREWS 6 IS AN EXTREMELY DIFFICULT PASSAGE; PERHAPS THE HARDEST PART IS DECIDING BETWEEN TWO OPPOSING, SEEMINGLY EQUALLY STRONG INTERPRETATIONS. IT'S A WONDERFUL, SOMETIMES FRUSTRATING PREDICAMENT, BUT AS WE STUDY AND PRAY ABOUT THE BEST DECISION, BOTH, OFTEN IN UNEXPECTED WAYS THAT ARE EXHILARATING, DRAW US CLOSER TO HIM WHO HAS ALL THE RIGHT ANSWERS.
– Professor Thomas A. Rohm