EPHESIANS 4:25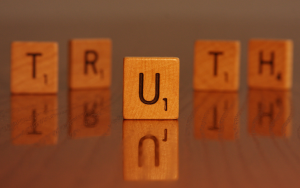 OUR VERSE-BY-VERSE STUDY OF THE BOOK OF EPHESIANS BRINGS US TO chapter 4 and verse 25. Just one verse, but there is more truth (pun) and practical application in this one verse than I will have time to cover in this blog.  As I studied this single verse this past week, I found that I couldn't seem to put an end to it, that the words just continued to open up into new or expanded areas.
NAS  Ephesians 4:25 Therefore, laying aside falsehood, speak truth, each one of you, with his neighbor, for we are members of one another.
OUR SUBJECT FOR THIS WEEK IS THE TRUTH, "TELLING THE TRUTH." The first description of "The New Man" (last week's blog) is that he tells the truth. Truth is such an important topic in Scripture that the word is found some 200 times (202 – BibleWorks). Christians are to lay aside falsehood and speak truth. A falsehood, of course, is a lie.
TRUTH, IT MAY BE SAID, IS THE FOUNDATION OF OUR FAITH. Forgive me for proposing this, but instead of receiving this message as if we already know all we need to know about the familiar subject of truth, let's all come to God's Word this week with a sincere expectation of being taught something we need to know, and perhaps being corrected in our preconceptions.
VERSE 25 IS PART OF A LARGER CONTEXT, EXTENDING THROUGH V.29. This is a passage that deals with practical instructions for Christians. Verses 25-29 could be titled "Since I Have Been Redeemed."
"PAUL TAUGHT THE EPHESIANS THAT WHEN CHRIST SAVED THEM, they put off the old man and put on the new man. Precisely because God had made them new persons, they were to follow certain standards of behavior. Their lives were to reflect their relationship with Christ. Thus in Ephesians 4:25-29 Paul gave instructions about how the believers, as new people in Christ, should live each day. The instructions concerned lying and truth telling, anger, stealing and honest work, and proper speech." – Garner
THE FIRST INSTRUCTION IN THIS PRACTICAL PASSAGE IS to lay aside falsehood and speak truth. "Telling the Truth." "If you reject lying, and make a conscious, deliberate commitment to speak the truth – even if it hurts you – then you are living as "The New Man" is commanded to live." – Steadman/TAR
THERE IS A STRONG RELATIONAL ETHIC TO THIS PASSAGE. "Before dealing with the specifics of this verse, attention should be given to the fact that the Christian ethic (or set of principles, or moral standards) is a relational and reflective one. It is about relation with God. The New Man is in relationship with God. God's Spirit is present in our lives and is grieved when we do not live worthy of the calling by which we have been called (4:1). We are carried along from within by a God who reacts to our behavior." – Snodgrass/TAR
"GOD IS NOT 'OUT THERE' FOR US TO DREAM ABOUT, BUT HERE AND PRESENT to changes our lives." – Snodgrass/TAR… We are in intimate and continuous relationship with God, and He is in intimate and continuous relationship with us.
"RELATION WITH GOD ESTABLISHES RELATIONS WITH OTHER PEOPLE. No matter how strenuous the effort, relation with God cannot be separated from relation with other people. The relational ethic is present in the 'body' theology of v. 25, and is implied throughout the passage (vv. 25-32). As Christians we are part of other believers, and we suffer or thrive with them. Until we take this interrelation seriously, we can never be what we are called to be. This perspective undergirds the necessity of building up others in Christ, both in what is said to them and in what we contribute to them materially. Insensitivity and hostility are not allowed." – Snodgrass…
"THE PASSAGE IS ALSO REFLECTIVE. We are to reflect God's attitude and acts toward other people. God is known in the Cross and the Resurrection. He lives within us to change our lives and by those changed lives reflect His love to others. He is the standard for our actions. The fact that we are His children means we are to copy His acts. We have received grace and forgiveness from Him, and we at to reflect – to show – these qualities to others. He loves, and we are to love." – Snodgrass/TAR
TRUTH  DIRECTLY RELATES TO OUR INDIVIDUAL INTEGRITY. Integrity is a big word to me; I believe it should be to all Christians. Integrity is practical holiness. Integrity is steadfastly following the truth in our daily lives. Much of what I am going to be saying in this blog deals with practical holiness.  Practical, as opposed to theoretical.  It has to do with how we as Christians are to live our lives here on earth; what we say and what we do.
IN AN ASTOUNDING STATEMENT, JESUS DECLARED THAT HE HIMSELF IS THE truth…
NAS  John 14:6 Jesus said to him, "I am the way, and the truth, and the life; no one comes to the Father, but through Me.
NAS  John 1:17 For the Law was given through Moses; grace and truth were realized through Jesus Christ.
GOD'S WORD THE BIBLE IS TRUTH…
NKJ  John 17:17 "Sanctify them by Your truth. Your word is truth.
AND GOD WANTS HIS BELIEVERS TO WALK IN TRUTH…
NAS  3 John 1:4 I have no greater joy than this, to hear of my children walking in the truth.
PAUL SAID IN VV. 14 AND 15 OF CHAPTER 4 THAT we are to speak the truth in love…
NAS  Ephesians 4:14-15 As a result, we are no longer to be children, tossed here and there by waves, and carried about by every wind of doctrine, by the trickery of men, by craftiness in deceitful scheming; 15 but speaking the truth in love, we are to grow up in all aspects into Him, who is the head, even Christ,
AS ONE MIGHT READILY EXPECT FROM A GOD WHO HIMSELF IS TRUTH, His followers are to also be of truth. Truth is characteristic of "The New Man," whereas lies are part of the old man, the person we were before Christ.
WHAT IS TRUTH? You are probably aware that Pilate asked Jesus this very question. This fascinating exchange took place just before Jesus went to the Cross in John 18:37-38…
NAS  John 18:37-38 Pilate therefore said to Him, "So You are a king?" Jesus answered, "You say correctly that I am a king. For this I have been born, and for this I have come into the world, to bear witness to the truth. Everyone who is of the truth hears My voice." 38 Pilate said to Him, "What is truth?" And when he had said this, he went out again to the Jews, and said to them, "I find no guilt in Him.
TRUTH CAN BE KNOWN. Revelation is truth. God has revealed Himself in order to save man, and thereby glorify Himself.
THE DICTIONARY SAYS, "TRUTH IS conformity to fact or actuality." That is good.  That is accurate to Scripture.  Truth must correspond to fact.  "\"What is," is truth.  Truth corresponds to reality.
WHAT IS REAL IS WHAT IS TRUE, and what is true is real. "Speaking the truth is conforming one's words to reality." – Hoehner
WE ARE TO TESTIFY TO WHAT IS TRUE. We are to tell the truth.  This week I meditated on what it means to tell the truth.  I think telling the truth for the Christian entails more than merely not lying.  Certainly we are to speak the truth when we talk or when we are asking questions.  But telling the truth may also be seen to mean testifying to the truth of God.  If God is truth – and He is – we are to "tell" Him to others.  Some have even said that should be the main reason we speak at all: to tell others about God; to tell the Truth…
NAS John 9:25 He therefore answered, "Whether He is a sinner, I do not know; one thing I do know, that, whereas I was blind, now I see."
THE MAN BORN BLIND WAS SIMPLY TELLING THE TRUTH.  He could not explain everything about the restoration of sight; he was just testifying to the reality that he could see.  Truth corresponds to reality.  By telling the truth he was bearing witness to the Truth…
THE BIBLE TELLS US TO TELL THE TRUTH AND TO LIVE THE TRUTH.
NAS Colossians 3:8-10 But now you also, put them all aside: anger, wrath, malice, slander, and abusive speech from your mouth.  Do not lie to one another, since you laid aside the old self with its evil practices, and have put on the new self who is being renewed to a true knowledge according to the image of the One who created him
TELL THE TRUTH; LIVE THE TRUTH. Faith is response and assent to truth as well as sincere dependence upon God.  When we are saved, we agree to the truth of the gospel.  The problem is often, however, that the Christian says he is in the truth, but his walk does not match his talk…
NAS 1 John 1:6-8 If we say that we have fellowship with Him and yet walk in the darkness, we lie and do not practice the truth; but if we walk in the light as He Himself is in the light, we have fellowship with one another, and the blood of Jesus His Son cleanses us from all sin. If we say that we have no sin, we are deceiving ourselves, and the truth is not in us.
CHRISTIANS ARE TO BE CHILDREN OF TRUTH,  just as we are to be children of light (Ephesians 5:8).
PRECEDING PAUL'S COMMAND TO TELL THE TRUTH, IS HIS EXHORTATION TO lay aside falsehood, or not to lie. "Speak truth" (λαλεῖτε ἀλήθειαν [la-lei-te a-lay-thee-an]) is an imperative [a command]; "laying aside falsehood" (ἀποθέμενοι τὸ ψεῦδος [a-pa-thay-men-oi ta pseu-dos]) is an aorist participle, which, modifying the imperative main verb, is taken imperatively. In other words, both statements are to be taken as commands: "lay aside falsehood; speak truth."
"HAVING PUT AWAY LYING, SPEAK TRUTH."
"LYING CAN TAKE MANY FORMS, INCLUDING EXAGGERATION, CHEATING on income tax returns, making promises with no intention of keeping them, and flattery. Jesus' followers should be known as people whose words are true and trustworthy. Paul stated one primary reason why Christians are to speak the truth: 'because we are members of one another.' Paul is again stressing unity in the Church. Christians fellowship is based on trust, and trust is based on truth. Lies undermine that fellowship. Perhaps nothing so separates believers as do misrepresentation, falsehood, and deception. For the body of believers to function harmoniously, believers must speak the truth." – Garner/TAR
LYING IS DIRECTLY CONNECTED TO OUR FALLEN, SINFUL NATURE. In the Garden, at the beginning, Eve believed the lie of Satan, and Adam lied to God.
SATAN IS THE FATHER, THE SOURCE, OF LIES…
NAS  John 8:44 "You are of your father the devil, and you want to do the desires of your father. He was a murderer from the beginning, and does not stand in the truth, because there is no truth in him. Whenever he speaks a lie, he speaks from his own nature; for he is a liar, and the father of lies.
"A LIE IS THE EXACT OPPOSITE OF WHO GOD IS." – David Jeremiah
WITH THESE INTRODUCTORY WORDS IN MIND, LOOK AGAIN TO V. 25 of Ephesians 4…
NAS  Ephesians 4:25 Therefore, laying aside falsehood, speak truth, each one of you, with his neighbor, for we are members of one another.
PAUL IS QUOTING ANOTHER PASSAGE FROM THE O.T.: Zechariah 8:16…
NAS  Zechariah 8:16 'These are the things which you should do: speak the truth to one another; judge with truth and judgment for peace in your gates.
THE HEBREW WORD FOR TRUTH, אֱמֶת (e-moo-naw) means firmness, fidelity, steadfastness, steadiness…
KJV Deuteronomy 32:4 He is the Rock, his work is perfect: for all his ways are judgment: a God of truth and without iniquity, just and right is he.
THE MAIN GREEK WORD FOR TRUTH ἀλήθεια (al-a-thigh-a) carries much the same idea as the Hebrew but conforms more to our modern interpretation of that which is real: "the unveiled reality lying at the basis of and agreeing with an appearance.
GOD IS THE UNDERLYING REALITY BEHIND APPEARANCE, behind all that is real.
WE ARE TO "TELL" TO THE TRUTH AND WE ARE TO LIVE THE TRUTH.
THIS IS "THE LIFESTYLE OF THE KIND AND FAITHFUL" – In place of "The Lifestyles of the Rich and Famous." This passage, in many ways, is a litmus test for Christians to see if they are truly living like Christians. – David Jeremiah
IN THE WORLD TODAY, PERHAPS MORE THAN EVER BEFORE, there is a desperate need for truth, morality, genuineness…
CONSIDER THE WORD "GENUINE." It means 1. possessing the claimed character, quality, or origin; not counterfeit; authentic.
DID YOU CATCH THAT? "Possessing the claimed character."  Do you possess in the expression of your Christianity the character you claim?  As we asked last week, "Does your walk match your talk?"
CONSIDER THE FALSENESS OF THE WORLD, the corrupt business, the untruthful politicians, the outright lies of advertising, the false fronts, broken promises, and deceitful handshakes.
THE WORLD NOW SAYS THAT TRUTH IS RELATIVE, that it is changing, that it is subjective.  But the Bible says truth is objective and everlasting; it does not change.
THE DEFINITION OF GENUINENESS centers (in part) around the matching-up of values and action…. The following 5 characteristics describe the different levels upon which human beings operate: [1] Belief (I know), [2] Attitude (I feel), [3] Personality (I show), [4] Expression (I do), and [5] Value (I am)…
THINK OF THIS LIST AS STACKS OF BRICKS, with level laid upon level.  Are your basic values and beliefs in line with what you feel, show, and do? With too many people, the levels do not match up; the structure leans. What is bound to happen with a building built like this? It is destined to fall. But, like a true "architect of pride," none of us allows that to happen. We stick a prop out there to shore-up the leaning tower.
THIS MESSAGE MAY ALSO BE SEEN AS BEING ABOUT BEING SURE we're building a solid building… If we're saved, our foundation is solid and secure; it is Jesus Christ.
NOTE THAT V. 25 SAYS AT THE END, "FOR WE ARE MEMBERS of one another. "In the body of Christ, as members of Christ's life, we do not live only to ourselves. When we lie to one another, we hurt each other, and we wound the body of Christ. This is true even if we lie to someone outside the universal church, since we are all injured when anyone of us lies. The lie of one Christian brings dishonor upon all Christians and upon Christ." – Steadman…
"PAUL USES THE IMAGERY OF "PUTTING OFF" AND "PUTTING ON"; something like a coat. We are to put off the smelly old coat of our former behavior and put on the brand new coat of the obedient Christian lifestyle.  The "old man" = the old lifestyle; the "new man" = the new lifestyle.  The key to the difference is mainly the way you think.
SALVATION IS MAINLY MENTAL…
NAS  Ephesians 1:18 I pray that the eyes of your heart may be enlightened, so that you may know what is the hope of His calling, what are the riches of the glory of His inheritance in the saints,
REPENTANCE IS A CHANGE OF MIND; faith is a mental action; the Christian life is lived, it may be said, through the exercise of the mind…
NAS Romans 12:1-2 I urge you therefore, brethren, by the mercies of God, to present your bodies a living and holy sacrifice, acceptable to God, which is your spiritual service of worship.  And do not be conformed to this world, but be transformed by the renewing of your mind, that you may prove what the will of God is, that which is good and acceptable and perfect.
WHAT WE THINK PRODUCES OUR SPEECH AND THEN OUR ACTIONS…
KJV Philippians 4:8 Finally, brethren, whatsoever things are true, whatsoever things are honest, whatsoever things are just, whatsoever things are pure, whatsoever things are lovely, whatsoever things are of good report; if there be any virtue, and if there be any praise, think on these things.
IF WE THINK TRUTH, WE ARE LIKELY TO SPEAK TRUTH AND then do the truth.
IT COULD BE SAID THE KEY TO VICTORY IN THE CHRISTIAN LIFE IS YIELDING control to the Holy Spirit and allowing Him to control your mind through the Word of God.
TRUTH COMES FROM GOD BECAUSE GOD US TRUTH.
AND GOD GUIDES US INTO TRUTH…
NAS John 16:13 "But when He, the Spirit of truth, comes, He will guide you into all the truth; for He will not speak on His own initiative, but whatever He hears, He will speak; and He will disclose to you what is to come.
THE KEY TO CONTROLLING YOUR LIFE IS TO CONTROL THE MIND. The key to bridling the tongue is to control the mind. As has often been said, "The mind is the battlefield."
BEHAVIOR FOLLOWS MINDSET. In order to live the truth, you must know the truth, believe the truth, think the truth and tell the truth.
THE KEY TO CONTROLLING YOUR MIND IS TO WALK BY THE SPIRIT. (not "in" – the Holy Spirit is the Agent). How do you put aside falsehood? How do you speak truth? How do you bridle the tongue? How do you control the mind? You submit to the controlling power of the Holy Spirit who resides permanently with you; you live under His control; you allow the Spirit to control your behavior. The Bible refers to your life as your walk…
NAS Galatians 5:16 But I say, walk by the Spirit, and you will not carry out the desire of the flesh.
OUR FLESH FOLLOWS OUR MIND…
KJV Colossians 3:16 Let the word of Christ dwell in you richly in all wisdom; teaching and admonishing one another in psalms and hymns and spiritual songs, singing with grace in your hearts to the Lord.
AS THE WORD SATURATES YOUR LIFE, the Spirit then controls you and you walk victoriously in that control…
NAS John 16:13 "But when He, the Spirit of truth, comes, He will guide you into all the truth;
GOD'S WORD IS TO DWELL IN US AND WE ARE TO ABIDE IN IT…
NAS John 8:31 Jesus therefore was saying to those Jews who had believed Him, "If you abide in My word, then you are truly disciples of Mine;
OUR SPEECH SHOULD REFLECT THAT SPIRIT CONTROL.
WE SHOULD TELL THE TRUTH IN A LOVING WAY; WE SHOULD live the truth by being obedient to and controlled by the Spirit of God as He reveals Himself and His will for us in His Word the Bible.
JOHN MACARTHUR SAYS THAT "Our society is so dependent on lying that if it suddenly turned to telling the truth, our way of life would collapse. Lying includes more than simply telling direct falsehoods. It also includes exaggeration, adding falsehood to that which begins as true. Cheating in school and on income tax returns is a form of lying. Making foolish promises, betraying a confidence, flattery, and making excuses are all forms of lying."
THAT'S A SOBERING ASSESSMENT, IS IT NOT? Let's all take a moment here and take a deep breath and consider all we are saying in this message… I think if we are honest, we might say that with all due respect, especially if it is to be taken practically, this message is easier said than done. What about so-called "little white lies"? Aren't they sometimes harmless? Aren't they sometimes necessary? Who among us – including the Pastor – could say he or she is free from falsehood?
HOW CAN WE POSSIBLY AND PRACTICALLY BE OBEDIENT TO V. 25? It seems humanly impossible – and that's a key realization: it is humanly impossible. There is really only one way, and that is to be surrendered to the will of God in our lives, to be filled by the Holy Spirit and live under His control.
SPIRIT-CONTROLLED PEOPLE DO NOT TEND TO LIE. When we are putting off the Old Man and putting on the New Man, then and only then are we being obedient to v. 25.
HERE IS A GOOD QUOTE I CAME ACROSS IN MY READING THIS WEEK: "All correct knowledge of God originates in obedience." – John Calvin…
THE BIBLE SPECIFICALLY TELLS US THAT GOD HATES OUR LIES…
NAS Proverbs 6:16 There are six things which the LORD hates, Yes, seven which are an abomination to Him: Haughty eyes, a lying tongue, And hands that shed innocent blood, A heart that devises wicked plans, Feet that run rapidly to evil, A false witness who utters lies, And one who spreads strife among brothers.
LET ME STOP AT THIS POINT AND INSERT THIS IMPORTANT FACT: both lying and speaking truth have to do with the tongue. While this may at first seem staggeringly obvious, it is also eminently significant…
NAS  James 1:26 If anyone thinks himself to be religious, and yet does not bridle his tongue but deceives his own heart, this man's religion is worthless.
NAS  James 3:8 But no one can (completely – TAR) tame the tongue; it is a restless evil and full of deadly poison.
I'LL MOVE ON, AS THIS MESSAGE IS NOT OUR FOCUS FOR THIS WEEK, and yet, I think you'll agree, it is essential for us to recognize this fact: the tongue is the instrument of both lying and speaking truth.
"SPEAK THE TRUTH" … "If you tell the truth, you have infinite power supporting you; but if not, you have infinite power against you." – General Charles Gordon
"TRUTH FOREVER ON THE SCAFFOLD, WRONG FOREVER ON the throne." – James Russell Lowell
CHRISTIANS MUST CONSIDER CAREFULLY HOW THEY SPEAK.
THEY MUST STRIVE TO LIVE MORAL, GENUINE, TRUTHFUL LIVES that reflect the nature of the one who by His blood and His loving grace saved us!
"PUT AWAY LYING AND PUT ON TRUTH" with one other, "with our neighbors," with God, with ourselves. "The only way non-Christians will come to Christ is if Christians tell them the truth they need to hear." – Steadman
"BE REAL" IN CHRIST!  "TELL THE TRUTH IN LOVE" AND let us live the truth in obedience to God's Word the Bible.
"TRUTH IS THE SIGN OF THE NEW LIFE." – Steadman
– Professor Thomas A. Rohm