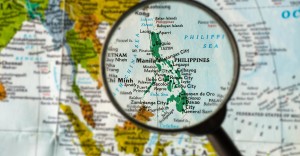 This last month has been busy, especially because I went to the Philippines.  My visit was good, it is always great to get back and see all our friends.  I arrived there during rainy season, and it rained hard all but one day that I walked.  I loved having nice warm rain daily, as we sure don't see that in California.  However, every river was flooded, and all the paths were muddy, so there is that trade off.
When I arrived at Salabuyo, the last place we lived, it was very encouraging to be there, as the church is doing GREAT.  A family that I tried to teach maybe 10 years ago, who had totally rejected the gospel, have now started to respond to the gospel.  They attend faithfully every Sunday, and are getting others of their relatives to show up and listen also.  Uliman and Milas, the father and daughter who basically do all the teaching, have been very faithful in their witnessing.  From Salabuyo, we visited this other area called Komol, but were not able to be there very long, however we did see a few of the believers there.  Uliman walks over there a couple times a month and teaches them there, and to another area also, so he has been very faithful in reaching out with the gospel.  And let me say, the walk is incredibly hard, and Uliman is not a young man, so please pray that God gives him strength.
After leaving Salabuyo, I walked over to Mapidya, where another church is located, with the plan of spending several days there.  However, on the way to Mapidya, I received news that a believer and good friend of ours died, so I only was able to spend one night in Mapidya, and walked over to Kamarin, where another church is at, where we buried my friend. I spent several days there, spending time with several of the believers, as well as a lot of the other friends we have.  That church in Kamarin is the oldest church, however it struggles the most.  They are also the closest to town, so it seems to me that they are the most pulled by all the modern world has to offer, which may be convenient but that isn't always a good thing.
Here in Sierraville, we have continued our Bible study with some nonbelievers.  We are teaching now in Romans.  Our church now is mostly new people without much understanding, so we would like to see that they get a solid base of understanding in their walk before God.  So in our Bible studies, with some of the new people, we get really hard questions, like regarding free will and election, like questions about the Trinity.  It is great to have good questions, and we enjoy that, but what we most want to see believers doing is growing in faith, and in understanding, with a desire to be sold out to serving God above all things.  This of course takes time as the believers develop in truth.  The biggest struggle here has not been false teaching, it has been that those who go to church seem to find church to be a filler.  It is not a priority above work or play.  It takes priority when there is not work to be done, or there is no recreation event.  This comes with being sold out to God and His will, and trusting in Him.
We thank you for your support, we truly appreciate the financial support, we couldn't do this job without your support and prayers.
David and Adriana