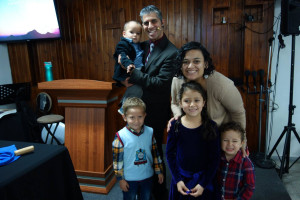 It's been a season of waiting on the Lord in our church plant, Etihad Khalda. We're waiting for Him to save unbelieving families we've invested in for years. We're waiting for Him to light a fire in believers who've gone complacent. It's been hard on those of us striving to live for Christ (the church Core Group), but we are hoping in Him.
By God's grace, our kids are a blessing to everyone in the congregation. They greet everyone (very important in Jordanian culture) and make Kids Ministry feel full every week. There's even one man (Abu Joseif) who comes every Sunday just so he can play with Baby Gideon. We never expected it to go this well. We credit that to the Lord's grace and your prayers.
Lastly, we're traveling to the States for the last required step in the adoption – the kids' US citizenship. We look forward to connecting with many of you and introducing you to our kids!
Confirmed dates for our trip:
Tues, Feb 27 – Arrive in Sacramento
Sun, Mar 3 – Grace Church of Napa Valley
Mon-Sat, Mar 4-9 – Shepherd's Conference for Issa
Fri-Fri, Mar 22-29 – Visiting churches/friends San Diego
Sun, Mar 24 – Barabbas Road Church
Fri, Apr 5 – Leave to Jordan
Prayer and Praise:
1. Please pray for the salvation of unbelieving families: the Madanats, the Jabaras, the Sellsas, Abu Joseif, and the Dahabrehs.
2. Pray for the Lord's favor with all the paperwork for the kids' citizenship. Because we're expats, the process is very unclear, so just pray for the least expensive and most productive time possible while we're in the US.
3. The Lord has been pressing on my heart that the church might be benefited by buying a church building to accommodate our needs and give some visible stability to our church (important in the ever-changing Middle East). It would be a huge endeavor, so please pray for His guidance as we consider it.
With grateful hearts,
Issa, Abi, and the kids (Gloria, Emmanuel, Shepherd, and Gideon)