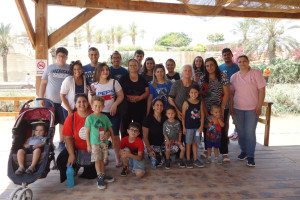 A Group picture from our church baptism at the Jordan River
Abi and I love summers in Jordan. People are more willing to hang out, stay up late, and come to church, which means more sitting under the life-changing Word of God!
I recently had the privilege of
baptizing 2 people
from our congregation in the Jordan river.
The first was Zaid, a 16-year-old from our church, who requested to be baptized on his own initiative one day. We were thrilled to oblige as baptism is a particularly poignant watershed momen
t here in the Middle East. We've seen spiritual growth in Zaid's life for a long time, and it was sweet to hear his salvation testimony of his mom's godly influence in his life and his hunger for the Word through our church, Etihad Khalda.
Afaf (uh-FAFF) is a longtime believer who was recently widowed. She has always been deathly afraid of water (as many Jordanians are) so she was never baptized. Widowhood has lit a fire in her heart, though, because she was willing to face her fears and obey the Lord in baptism with radiant joy on her face.
God is at work here! We're privileged to be a light in such a dark place, by His grace.
Prayer and Praise:
1.
VBS
(a study on the glory of God) is happening in less than a month! Please pray for families who have a passion for God's glory to join our church through this outreach.
2. I started preaching through Romans and we're putting the sermons on FB live to sow the seed wider and try to grow the church. Pray for
spiritual growth
.
3. We are ever grateful for your prayers and financial gifts. Unfortunately, we're at a significant
deficit
in our monthly supporters and are in need of $800/mo. God always provides for our needs, but we're looking for more families and individuals to join our monthly support team.
4. We've been a family 9 months and, lately, deep-rooted fears have been arising in the kids. Pray that the Lord would give them the courage to
trust
us in the deepest part of their hearts.
5. Still waiting for the
Certificate of Citizenship
(COC) for our kids. Not getting it has several meaningful implications. Pray for the COCs to come.
In awe of Him,
Issa
and Abi (Gloria, Emmanuel, Shepherd, and Gideon)