Jordan Update-Camp Praises
Below is an update from Issa and Abi, missionaries Barabbas Road supports in Amman Jordan.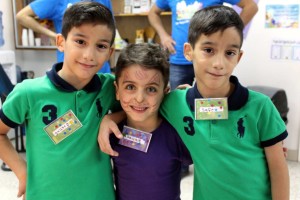 Thank you all so much for your prayers! The kids' camp was a blessing – the Gospel was presented, the Word lifted high, and many new families were introduced to our church! Attendance numbers were less this time, BUT those who came were all potentials for the church, which is the goal anyway.
Another huge blessing is the camaraderie that developed among the leaders during the camp. That's one of Abi's and my favorite things to watch – relationships becoming deeper and love among the brethren taking root.
In addition, on the last night, where the kids bring their parents to church with them, our people did an amazing job pursuing new people. When we would look around for someone new to greet, we could see every new family already being talked to by one of the leaders! What amazes us about that is that we didn't even remind them that it's our job as believers to welcome people to the church. They did it on their own. The Word has truly been working in their lives and we are in AWE of the Lord's faithfulness and kindness to work through His Word.
One night after the camp, all the leaders were hanging out and they got to talking about the annual Alliance denominational conference that's coming up next week. They all signed up to go! This is exciting to us because it means more time with each other to build relationships and to invest into the lives of our people!
Prayer and Praise:
1. Pray for the follow-up now. Pray that the camp families would invite us into their homes and that the Lord would open their eyes to the beauty of the God of the Bible.
2. PTL for the unity among the believers at our church. Pray that the Lord would keep our fellowship pure, not devolving into gossip or other unwholesome speech (which is rampant in churches here). And pray for the believers who are still on the outskirts, that the Lord would move in their hearts to bring them into true fellowship with others.
3. The church officially hit its 2-year mark today. Most of you have been with us – a vital part of the team through prayer and/or giving – from the beginning. PTL for all HE has accomplished in 2 years! He has been faithful to us and will continue to be as He builds His church in Amman!
Here's the link to the camp video if you're interested. Jordan kids Camp
Blessed beyond measure,
Issa and Abi