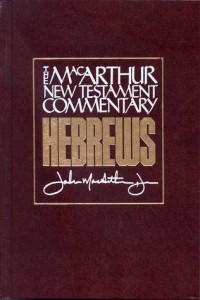 21 By faith Jacob, as he was dying, blessed each of the sons of Joseph, and worshiped, leaning on the top of his staff.
 22 By faith Joseph, when he was dying, made mention of the exodus of the sons of Israel, and gave orders concerning his bones.
 23 By faith Moses, when he was born, was hidden for three months by his parents, because they saw he was a beautiful child; and they were not afraid of the king's edict.
 24 By faith Moses, when he had grown up, refused to be called the son of Pharaoh's daughter;
 25 choosing rather to endure ill-treatment with the people of God, than to enjoy the passing pleasures of sin;
 26 considering the reproach of Christ greater riches than the treasures of Egypt; for he was looking to the reward.
 27 By faith he left Egypt, not fearing the wrath of the king; for he endured, as seeing Him who is unseen.
 28 By faith he kept the Passover and the sprinkling of the blood, so that he who destroyed the first-born might not touch them.
 29 By faith they passed through the Red Sea as though they were passing through dry land; and the Egyptians, when they attempted it, were drowned.
 30 By faith the walls of Jericho fell down, after they had been encircled for seven days.
 31 By faith Rahab the harlot did not perish along with those who were disobedient, after she had welcomed the spies in peace.
 32 And what more shall I say? For time will fail me if I tell of Gideon, Barak, Samson, Jephthah, of David and Samuel and the prophets,
 33 who by faith conquered kingdoms, performed acts of righteousness, obtained promises, shut the mouths of lions,
 34 quenched the power of fire, escaped the edge of the sword, from weakness were made strong, became mighty in war, put foreign armies to flight.
 35 Women received back their dead by resurrection; and others were tortured, not accepting their release, in order that they might obtain a better resurrection;
 36 and others experienced mockings and scourgings, yes, also chains and imprisonment.
 37 They were stoned, they were sawn in two, they were tempted, they were put to death with the sword; they went about in sheepskins, in goatskins, being destitute, afflicted, ill-treated
 (Heb 11:11-37 NAS)
BY FAITH JACOB, AS HE WAS DYING, BLESSED EACH OF THE SONS OF JOSEPH AND WORSHIPED, LEANING ON THE TOP OF HIS STAFF (11:21).
JACOB'S LIFE WAS LIKE HIS FATHER'S IN MANY WAYS.  IT WAS UP AND DOWN SPIRITUALLY.  SOMETIMES HE WALKED BY FAITH AND SOMETIMES HE STUMBLED BY SIGHT.  He had times of great faith and times of fear and anxiety.  He bargained with God on occasion (Gen. 28:20-21) and on other occasions he readily acknowledged God's blessing (31:5).  He reverently praised the Lord whom he had the dream of the heavenly ladder (28:16-17), and once he was so intent on receiving God's blessing that he wrestled with Him all night (32:24-26).
UNLIKE HIS FATHER, JACOB DID NOT TRY TO CIRCUMVENT GOD'S PLAN FOR HIS HEIRS.  JOSEPH, THOUGH YOUNGER THAN ALL HIS BROTHERS EXCEPT BENJAMIN, WAS THE CHOSEN SON TO BLESS, JUST AS JACOB, THOUGH YOUNGER, WAS CHOSEN ABOVE ESAU.  In fact Joseph received a double blessing in that his two sons, Ephraim and Manasseh, were both blessed; although again the younger son, Ephraim, received the greater blessing (48"19).  Consequently, instead of only one tribe descending from Joseph, as with his brothers, two tribes (often referred to as half-tribes) descended from him.
AS HE WAS DYING, JACOB BLESSED HIS SON THROUGH HIS TWO GRANDSONS.  "THEN ISRAEL (JACOB'S NEW NAME) SAID TO JOSEPH, "BEHOLD I AM ABOUT TO DIE, BUT GOD WILL BE WITH YOU AND BRING YOU BACK TO THE LAND OF YOUR FATHERS.  And I will give you one portion more than your brothers (48:21-22).  Once again, what was never possessed was passed on in faith. Jacob died as a man of faith.
JOSEPH'S FAITH
JOSEPH SPENT ALL OF HIS ADULT LIFE IN EGYPT.  THOUGH A FOURTH GENERATION HEIR OF THE PROMISE, HE COULD NOT CLAIM EVEN TO HAVE SOJOURNED IN THE PROMISED LAND, MUCH LESS TO HAVE INHERITED IT.   IT HAD BEEN SOME TWO HUNDRED YEARS SINCE GOD MADE THE INITIAL COVENANT WITH ABRAHAM.  Two hundred years of promise, and no fulfillment in sight.  In fact, by the time of Joseph's death, none of Abraham's descendants (that is, the descendants of promise) lived in the Promised Land at all.  Because of the famine in Canaan, Joseph had brought his father and his brothers to Egypt.  Jacob was carried back to Canaan after he died, and Joseph would be satisfied if only his bones could be buried there.  If he could not inherit the land, at least the land could "inherit" him.  It was not until the Exodus that Joseph's bones were actually taken to Canaan (Ex. 13:19), but his heart and his hope had always been there.
HE HAD TO LOOK AHEAD TO SEE THE PROMISE, YET HE SAW IT CLEARLY AND CONFIDENTLY, "I AM ABOUT TO DIE, BUT GOD WILL SURELY TAKE CARE OF YOU, AND BRING YOU UP FROM THIS LAND TO THE LAND WHICH HE PROMISED ON OATH TO ABRAHAM, TO ISAAC AND TO JACOB" (GEN. 50:24).While he was making his brothers swear to take his bones back to Canaan, he repeated the assuring words of faith, "God will surely take care of you" (v. 25).
ALL THREE OF THESE MEN BELIEVED GOD IN THE FACE OF DEATH.  THEIR FAITH HAD SOMETIMES WAVERED IN LIFE, BUT IT WAS STRONG AND CONFIDENT IN DEATH.  DEATH IS THE ACID TEST OF FAITH.  FOR HUNDREDS, PERHAPS THOUSANDS OF YEARS, COURTS OF LAW HAVE TAKEN A DYING MAN'S WORD AT FACE VALUE.    The need for lying and deception is over, and what is said on a deathbed is usually believed.  So with our testimony of faith.  Not only is the need for hypocrisy and pretense over, but it is extremely difficult to fake faith when you know you are facing eternity.  A dying man's faith is believable because a sham cannot stand this test.
A CHRISTIAN WHO FEARS DEATH HAS A SERIOUS WEAKNESS IN HIS FAITH, FOR TO DIE IN CHRIST IS SIMPLY TO BE USHERED INTO THE LORD'S PRESENCE.  "For to me, to live is Christ," Paul says, "and to die is gain" (Phil. 1:21).  For those who believe, "Death is swallowed up in victory" (1 Cor. 15:54).
MOSES FAITH
THE DECISIONS OF FAITH (11:23-29)
BY FAITH MOSES, WHEN HE WAS BORN, WAS HIDDEN FOR THREE MONTHS BY HIS PARENTS, BECAUSE THEY SAW HE WAS A BEAUTIFUL CHILD; AND THEY WERE NOT AFRAID OF THE KING'S EDICT.  BY FAITH, MOSES WHEN HE HAD GROWN UP, REFUSED TO BE CALLED THE SON OF PHARAOH'S DAUGHTER; CHOOSING RATHER TO ENDURE ILL-TREATMENT WITH THE PEOPLE OF GOD, THAN TO ENJOY THE PASSING PLEASURES OF SIN; CONSIDERING THE REPROACH OF CHRIST GREATER RICHES THAN THE TREASURES OF EGYPT; FOR HE WAS LOOKING TO THE REWARD.  BY FAITH HE LEFT EYGPT, NOT FEARING THE WRATH OF THE KING; FOR HE ENDURED, AS SEEING HIM WHO IS UNSEEN.  BY FAITH HE KEPT THE PASSOVER AND THE SPRINKLING OF THE BLOOD, SO THAT HE WHO DESTROYED THE FIRSTBORN MIGHT NOT TOUCH THEM.  BY FAITH THEY PASSED THROUGH THE RED SEA AS THOUGH THEY WERE PASSING THROUGH DRY LAND; AND THE EGYPTIANS, WHEN THEY ATTEMPTED IT, WERE DROWNED. (11:23-29)
LIFE IS MADE UP OF DECISIONS.  SOME ARE SIMPLE AND UNIMPORTANT, AND SOME ARE COMPLEX AND EXTREMELY IMPORTANT.  Many are made almost unconsciously, whereas others we think about carefully for a long time.  Some decisions are made by default. When we put off deciding, a decision is made for us.  But it is still our decision, because we decide to put it off.  The course and the quality of our lives are determined much more by our decisions than by our circumstances.
CHRISTIAN LIVING INVOLVES MAKING RIGHT DECISIONS.  YOU CAN NOTE THE MATURITY OF A CHRISTIAN BY THE DECISIONS HE MAKES.  HOLINESS IS MAKING RIGHT DECISIONS, CARNALITY OF MAKING WRONG ONES.  Our Christian living rises or falls in maturity and holiness on the basis of the decisions we make.  When Satan tempts us, we decide either to say yes or no.  When we have opportunity to witness, we either take advantage of it or we do not.  We decide whether or not to take time to read the Bible and to pray.  It is not a matter of having time but of taking time, and taking time requires a decision.  In business we often have to choose between making more money and being honest and ethical, or between getting ahead and giving enough time to our families and to the Lord's work. Virtually everything we do involves a decision.
Shakespeare said,
There is a tide in the affairs of men, Which taken at the flood, leads onto fortune;
omitted, all the voyage of their life is bound in shallows and in miseries.
NAPOLEON BELIEVED THERE IS A CRISIS IN EVERY BATTLE, A PERIOD OF TEN TO FIFTEEN MINUTES ON WHICH THE OUTCOME DEPENDS.  TO TAKE ADVANCE OF THIS PERIOD IS VICTORY, TO LOSE IT IS DEFEAT.
EVERYTHING IN A BELIEVER'S LIFE IS AN OPPORTUNITY TO GLORIFY GOD.   The ancient Greeks had a statue called Opportunity.  The front of the figure had long flowing hair, but the back of its head was bald – symbolizing the fact that we can grasp an opportunity as it comes toward us, but once it is past there is nothing to hold on to.
SINCE THE BEGINNING OF TIME, GOD HAS GIVEN MEN CHOICES THAT DETERMINE THEIR LIVES.  THE FIRST MAN TO CHOOSE WAS ADAM.  He made the wrong choice and started the tragic chain of wrong choices that has plagued his descendants ever since. – MacArthur
Professor Thomas A. Rohm