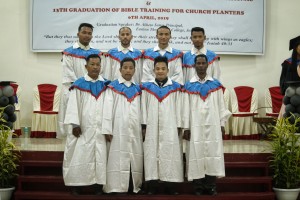 (These are the eight men we as Barabbas Road Church sponsored to go through pastoral training and to become chuch planters)
Greetings from LTC, Siliguri, India. I am glad to inform you that the graduation program of the 13th Batch of BTCP (pastoral training) was held on 6th April, 2019.
Dixon Kimsing was awarded with the best practical performance, Something Magar walked away with the general proficiency award as well as the best citizenship award.
Each of them have started a fellowship each and now they are discipling the new believers and working hard for numerical growth as well.
In two months (April-May) time they have done the following:
Darshan Deuba – evangelized to 71 people, 3 accepted The Lord, 36-48 people attends the fellowship.
Dixion Kimsing – evangelize 58 people, 2 accepted Christ, 2 baptized.
John Thapa – evangelized 147 people, 12-14 children attend the Sunday school, 5- 12 believrs come for fellowship
Sanjeeb Mech – reached out to 133  people, 9 believers regularly attend the fellowship
Srawan Thap – Presented the gospel to 15 people, 3 accepted the Lord and about 6 people came regularly for the fellowship.
Somehting Magar – shared the gospel to 146 people 5 came to Christ, 2 are ready to take Baptism and 46-48 people gathered for fellowship.
Dawa Tamang – reached out to 112 people, 1 person came to Christ, an average of 10 youths attend the youth service, 17children came to Sunday school, 17 women  in the women service and about 32 regularly attend the Fellowship.
Biswanath Soren – evangelized 46 people, 12 accepted the Lord, 24-28 attended Bible study, 32-33 attended the fellowship.
I will send their detail monthly report after every two months. I am sorry I should have reported the graduation news immediately after the event but thought of attaching it after their monthly reports are sent. Couple of their graduation pictures and are attached below.
Yours truly
Ngounibou Thiumai