Final Words on Chapter 10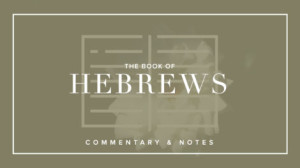 BEFORE WE MOVE ON TO EXEGETING CHAPTER 10, I INTEND TO EXERCISE MY PROFESSOR'S LIBERTY TO TAKE A COUPLE OF WEEKS TO RANDOMLY INVESTIGATE SOME PASSAGES THAT HAVE CAPTURED MY INTEREST OF LATE. HOPE YOU WILL FIND THEM WORTHEHILEAND ENJOYABLE…
ESV Hebrews 10:1 For since the law has but a shadow of the good things to come instead of the true form of these realities, it can never, by the same sacrifices that are continually offered every year, make perfect those who draw near.
2 Otherwise, would they not have ceased to be offered, since the worshipers, having once been cleansed, would no longer Have any consciousness of sins?
3 But in these sacrifices there is a reminder of sins every year.
4 For it is impossible for the blood of bulls and goats to take away sins.
5 Consequently, when Christ came into the world, he said, "Sacrifices and offerings you have not desired, but a body have you prepared for me;
6 in burnt offerings and sin offerings you have taken no pleasure.
7 Then I said, 'Behold, I have come to do your will, O God, as it is written of me in the scroll of the book.'"
8 When he said above, "You have neither desired nor taken pleasure in sacrifices and offerings and burnt offerings and sin offerings" (these are offered according to the law),
9 then he added, "Behold, I have come to do your will." He does away with the first in order to establish the second.
10 And by that will we have been sanctified through the offering of the body of Jesus Christ once for all.
11 And every priest stands daily at his service, offering repeatedly the same sacrifices, which can never take away sins.
12 But when Christ had offered for all time a single sacrifice for sins, he sat down at the right hand of God,
13 waiting from that time until his enemies should be made a footstool for his feet.
14 For by a single offering he has perfected for all time those who are being sanctified.
15 And the Holy Spirit also bears witness to us; for after saying,
16 "This is the covenant that I will make with them after those days, declares the Lord: I will put my laws on their hearts, and write them on their minds,"
17 then he adds, "I will remember their sins and their lawless deeds no more."
18 Where there is forgiveness of these, there is no longer any offering for sin.
19 Therefore, brothers, since we have confidence to enter the holy places by the blood of Jesus,
20 by the new and living way that he opened for us through the curtain, that is, through his flesh,
21 and since we have a great priest over the house of God,
22 let us draw near with a true heart in full assurance of faith, with our hearts sprinkled clean from an evil conscience and our bodies washed with pure water.
23 Let us hold fast the confession of our hope without wavering, for he who promised is faithful.
24 And let us consider how to stir up one another to love and good works,
25 not neglecting to meet together, as is the habit of some, but encouraging one another, and all the more as you see the Day drawing near.
26 For if we go on sinning deliberately after receiving the knowledge of the truth, there no longer remains a sacrifice for sins,
27 but a fearful expectation of judgment, and a fury of fire that will consume the adversaries.
28 Anyone who has set aside the law of Moses dies without mercy on the evidence of two or three witnesses.
29 How much worse punishment, do you think, will be deserved by the one who has trampled underfoot the Son of God, and has profaned the blood of the covenant by which he was sanctified, and has outraged the Spirit of grace?
30 For we know him who said, "Vengeance is mine; I will repay." And again, "The Lord will judge his people."
31 It is a fearful thing to fall into the hands of the living God.
32 But recall the former days when, after you were enlightened, you endured a hard struggle with sufferings,
33 sometimes being publicly exposed to reproach and affliction, and sometimes being partners with those so treated.
34 For you had compassion on those in prison, and you joyfully accepted the plundering of your property, since you knew that you yourselves had a better possession and an abiding one.
35 Therefore do not throw away your confidence, which has a great reward.
36 For you have need of endurance, so that when you have done the will of God you may receive what is promised.
37 For, "Yet a little while, and the coming one will come and will not delay;
38 but my righteous one shall live by faith, and if he shrinks back, my soul has no pleasure in him."
39 But we are not of those who shrink back and are destroyed, but of those who have faith and preserve their souls.
ENEMIES VANQUISHED (10:13)
CHRIST'S 'SESSION'(HIS BEING SEATED: AT HIS FATHER'S RIGHT HAND NOT ONLY DENOTES A FINISHED WORK, BUT ALSO ANTICIPATES A FINAL VICTORY – 'FROM THAT TIME (HE IS) WAITING TILL HIS ENEMIES ARE MADE HIS FOOTSTOOL' (10:13).  The enemies are still active, even as Christ reigns.  Who are those enemies?  They are, first of all, rebellious mankind, portrayed so graphically by the psalmist:  'The kings of the earth…and the rulers take counsel together against the Lord and against his Anointed (Christ), saying, "Let us break their bonds in pieces and cast away their cords from us"' (Ps. 2:1-3).  It was to this verse that the first disciples turned for comfort and encouragement as they faced the rising tide of persecution (Acts 4:23-27).  They saw it fulfilled in the way Herod, Pilate, the Romans and the Jews, each for their own reasons, sought to exterminate the infant church of Christ.
BUT THEY ALSO KNEW THAT THE GOD WHO INSPIRED DAVID'S PSALM WAS SOVEREIGN OVER THE AFFAIRS OF MEN.  THEIR ENEMIES 'WERE GATHERED TOGETHER'. THEY TOLD THEIR ALMIGHTY FATHER, 'TO DO WHATEVER YOUR HAND AND YOUR PURPOSE DETERMINED BEFORE TO BE DONE (ACTS 4:28).  This sublime confidence in the sovereignty of God was characteristic of the early church.  Should it not also characterize the church today?
JESUS SHARES HIS FATHER'S THRONE OF OMNIPOTENCE, AND ALL AUTHORITY HAS BEEN GIVEN TO HIM IN HEAVEN AND ON EARTH.  It is this confidence that we speak God's Word 'with all boldness'. and seek to 'make disciples of all the nations' (Acts 4:29; Matt. 28:18-19).  Because the enemies are still there, this will involve conflict.  Men still resist the claims of Christ and determine to destroy his kingdom.  But their wrath will be turned to the glory of God. Some of them will be saved despite themselves.  The gates of hell will not withstand the onslaught of the gospel.  God's purpose in Christ will be fulfilled.
SECONDLY, OF COURSE, CHRIST HAS AN ENEMY IN Satan.  ULTIMATELY, 'WE DO NOT WRESTLE AGAINST FLESH AND BLOOD, BUT AGAINST PRINCIPALITIES, AGAINST POWERS, AGAINST THE RULERS OF THE DARKNESS OF THIS AGE AGAINST SPIRITUAL HOSTS OF WICKEDNESS IN HEAVENLY PLACES' (EPH. 6:12).  The devil and his hosts may employ men in their warfare against the church of Christ, but the strength of evil is ultimately a spiritual strength.
IT IS MOST IMPORTANT THAT WE SHOULD UNDERSTAND THIS.  OTHERWISE WE SHALL TRY TO USE NATURAL MEANS TO OVERCOME THE ENEMY, WHEN ONLY SPIRITUAL WEAPONS WILL AVAIL.  Christians today seem shy of admitting the reality of Satan and his hosts and are correspondingly slow to take up the necessary arms.  Let us heed Paul's teaching here.  'Though we walk in the flesh', he declares, 'we do not war according to the flesh.  For the weapons of our warfare are not carnal but mighty in God for pulling down strongholds, casting down arguments and every high thing that exalts itself against the knowledge of God, brining every thought into captivity to the obedience of Christ' (2 Cor. 10:3-5).
THERE IS SOMETHING IMPORTANT FOR US TO NOTICE HERE.  ALTHOUGH ELSEWHERE THE APOSTLE EXHORTS US TO DEFEND OURSELVES WITH SPIRITUAL WEAPONS, HE IS HERE SPEAKING OF ATTACH!  Satan's strongholds are reduced to rubble, ungodly arguments are undermined and those who oppose the gospel are abased.  The philosophies of men are overwhelmed by the truth of God and left captive, as it were, by Christ.  This was Paul's experience and it can be ours also.
WHAT ARE THESE SPIRITUAL WEAPONS?  NOT SOCIAL INVOLVEMENT, POLITICAL MANIPULATION, ECCLESIASTICAL ENTERTAINMENT, OR ENTICEMENTS OFFERED TO THE NATURAL MAN – AS SOME APPEAR TO THINK.   Rather, our weapons are the gospel of God's grace. the Word of truth, the proclamation of Christ and him crucified, the fruit of the Spirit, prevailing prayer and fellowship in the gospel.  These are the means by which Christ's victory over the powers of darkness will be expressed and implemented.
WHEN CHRIST DISARMED PRINCIPALITIES AND MADE AN OPEN SHOW OF SATAN – WHEN HE ASCENDED ON HIGH AND LED CAPTIVITY CAPTIVE – WHAT WERE HIS THRONE-GIFTS TO THE CHURCH?   They were men raised up to minister the Word of God, the gospel of his grace (Col 2:15; Eph. 4:8-12).  We shall only experience the victory of Christ if we employ spiritual weapons in the battles that must still be fought.
HOWEVER, THE VICTORY IS ASSURED.  INDEED, IT IS ALREADY ACCOMPLISHED IN THE ANNALS OF HEAVEN.  Christ is at rest, seated – waiting for the time when his enemies will be finally subdued and will 'become his footstool'. – Andrews
Professor Thomas A. Rohm