Exegesis of Verse 9 – PART 2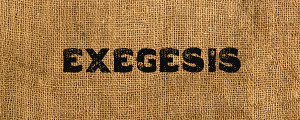 HEBREWS 8:7-13
NAS  Hebrews 8:7-13 For if that first covenant had been faultless, there would have been no occasion sought for a second. 8 For finding fault with them, He says, "Behold, days are coming, says the Lord, When I will effect a new covenant With the house of Israel and with the house of Judah; 9 Not like the covenant which I made with their fathers On the day when I took them by the hand To lead them out of the land of Egypt; For they did not continue in My covenant, And I did not care for them, says the Lord. 10 "For this is the covenant that I will make with the house of Israel After those days, says the Lord: I will put My laws into their minds, And I will write them upon their hearts. And I will be their God, And they shall be My people 11 " they shall not teach everyone his fellow citizen, And everyone his brother, saying, 'Know the LORD,' For all shall know Me, From the least to the greatest of them. 12 "For I will be merciful to their iniquities, And I will remember their sins no more." 13 When He said, "A new covenant," He has made the first obsolete. But whatever is becoming obsolete and growing old is ready to disappear.
"THE 'FATHERS' OF GOD'S PEOPLE, WITH WHOM HE MADE THE FIRST COVENANT, ARE TO BE IDENTIFIED WITH THE 'FATHERS' TO WHOM HIS WORD WAS ADDRESSED OF OLD…
NAS  Hebrews 1:1-2 God, after He spoke long ago to the fathers in the prophets in many portions and in many ways, 2 in these last days has spoken to us in His Son, whom He appointed heir of all things, through whom also He made the world.
"SINCE GOD MADE THIS COVENANT WITH THEM 'IN THE DAY' OF HIS 'TAKING THEM BY THE HAND TO BRING THEM OUT OF EGYPT,' THEY CAN BE NONE OTHER THAN THE REBELLIOUS WILDERNESS GENERATION DISCRIBED IN 3:7 – 4:11…
7 Therefore, just as the Holy Spirit says, "Today if you hear His voice, 8 Do not harden your hearts as when they provoked Me, As in the day of trial in the wilderness, 9 Where your fathers tried Me by testing Me, And saw My works for forty years. 10 "Therefore I was angry with this generation, And said, 'They always go astray in their heart; And they did not know My ways'; 11 As I swore in My wrath, 'They shall not enter My rest.'" 12 Take care, brethren, lest there should be in any one of you an evil, unbelieving heart, in falling away from the living God. 13 But encourage one another day after day, as long as it is still called "Today," lest any one of you be hardened by the deceitfulness of sin. 14 For we have become partakers of Christ, if we hold fast the beginning of our assurance firm until the end; 15 while it is said, "Today if you hear His voice, Do not harden your hearts, as when they provoked Me." 16 For who provoked Him when they had heard? Indeed, did not all those who came out of Egypt led by Moses? 17 And with whom was He angry for forty years? Was it not with those who sinned, whose bodies fell in the wilderness? 18 And to whom did He swear that they should not enter His rest, but to those who were disobedient? 19 And so we see that they were not able to enter because of unbelief. NAS  Hebrews 4:1 Therefore, let us fear lest, while a promise remains of entering His rest, any one of you should seem to have come short of it. 2 For indeed we have had good news preached to us, just as they also; but the word they heard did not profit them, because it was not united by faith in those who heard. 3 For we who have believed enter that rest, just as He has said, "As I swore in My wrath, They shall not enter My rest," although His works were finished from the foundation of the world. 4 For He has thus said somewhere concerning the seventh day, "And God rested on the seventh day from all His works"; 5 and again in this passage, "They shall not enter My rest." 6 Since therefore it remains for some to enter it, and those who formerly had good news preached to them failed to enter because of disobedience, 7 He again fixes a certain day, "Today," saying through David after so long a time just as has been said before, "Today if you hear His voice, Do not harden your hearts." 8 For if Joshua had given them rest, He would not have spoken of another day after that. 9 There remains therefore a Sabbath rest for the people of God. 10 For the one who has entered His rest has himself also rested from his , as God did from His. 11 Let us therefore be diligent to enter that rest, lest anyone fall through following the same example of disobedience.
'"HOW GRACIOUS GOD WAS TO TAKE 'THEM BY THE HAND' AND EFFECT SUCH A GREAT DELIVERANCE." – Cockerill
I HOPE YOU DON'T MIND TOO MUCH ME ADDING MY OWN REDUNDANT BUT HEARTFELT WORDS, "THAT'S BEAUTIFUL!" I SOMETIMES CAN'T SEEM TO HELP MYSELF.
"THE CHRISTIAN BELIEVERS TO WHOM HEBREWS WAS ADDRESSED ARE THEIR SPIRITUAL DESCENDANTS, THE PRESENT PEOPLE OF GOD. – Ibid
"GOD'S WORDS CONCERN 'THE HOUSE OF ISRAEL' AND 'THE HOUSE OF JUDAH,' BUT HEBREWS BRINGS THE ORACLE TO BEAR ON THE LISTENERS' SITUATION, SINCE THEY BELONG TO GOD'S 'HOUSE.'" – Koester
NAS  Hebrews 3:6 but Christ was faithful as a Son over His house whose house we are, if we hold fast our confidence and the boast of our hope firm until the end.   
"THE INADEQUACY OF GOD'S FIRST COVENANT HAS BEEN EXPOSED BY THE FACT THAT THIS PRIVILEGED GENERATION 'DID NOT REMAIN' IN IT. These words ecapsulate the continued rebellion that climaxed at Kadesh-Barnea. They poignantly express the pastor's concern: he wants his hearers to persevere in faith, to 'remain' through the efficacy of a High Priest who…
NAS  Hebrews 7:3 Without father, without mother, without genealogy, having neither beginning of days nor end of life, but made like the Son of God, he abides a priest perpetually.
NAS  Hebrews 7:24 but He, on the other hand, because He abides forever, holds His priesthood permanently.
"'REMAINS' IN ORDER TO RECEIVE AN ETERNAL INHERITANCE THAT 'REMAINS'…
NAS  Hebrews 10:34 For you showed sympathy to the prisoners, and accepted joyfully the seizure of your property, knowing that you have for yourselves a better possession and an abiding one.
NAS  Hebrews 12:27 And this expression, "Yet once more," denotes the removing of those things which can be shaken, as of created things, in order that those things which cannot be shaken may remain.
NAS  Hebrews 13:14 For here we do not have a lasting city, but we are seeking the city which is to come.
"BY IMPLICATION, THE PROMISED NEW COVENANT WILL BE ONE THAT PROVIDES RESOURCES THAT ENABLES HIS PEOPLE TO 'REMAIN.'" – Cockerill
– Professor Thomas A. Rohm