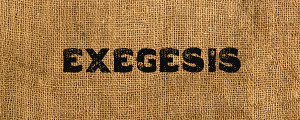 HEBREWS 8:7-13
NAS  Hebrews 8:7-13 For if that first covenant had been faultless, there would have been no occasion sought for a second. 8 For finding fault with them, He says, "Behold, days are coming, says the Lord, When I will effect a new covenant With the house of Israel and with the house of Judah; 9 Not like the covenant which I made with their fathers On the day when I took them by the hand To lead them out of the land of Egypt; For they did not continue in My covenant, And I did not care for them, says the Lord. 10 "For this is the covenant that I will make with the house of Israel After those days, says the Lord: I will put My laws into their minds, And I will write them upon their hearts. And I will be their God, And they shall be My people 11 "And they shall not teach everyone his fellow citizen, And everyone his brother, saying, 'Know the LORD,' For all shall know Me, From the least to the greatest of them. 12 "For I will be merciful to their iniquities, And I will remember their sins no more." 13 When He said, "A new covenant," He has made the first obsolete. But whatever is becoming obsolete and growing old is ready to disappear.
"JESUS IS THE MEDIATOR, SAYS 8:6, OF A BETTER COVENANT, AND NOW IN 8:7-13 HE EXPLAINS THE REASON THE COVENANT HE MEDIATES IS BETTER. THE 'BETTER COVENANT' IS IDENTIFIED HERE AS THE 'SECOND' ONE. BY WAY OF CONTRAST, THE 'FIRST COVENANT' WAS FAULTY.
"WE ENCOUNTERED THIS LINE OF ARGUMENT PREVIOUSLY IN HEBREWS. If the first covenant was adequate, the second one would not have been instituted. The same line of reasoning was used relative to the priesthood. If the Levitical priesthood truly brought perfection, there would be no need for a Melchizedekian priesthood…
NAS  Hebrews 7:11 Now if perfection was through the Levitical priesthood (for on the basis of it the people received the Law), what further need was there for another priest to arise according to the order of Melchizedek, and not be designated according to the order of Aaron?
Or, if sacrifices offered according to the law truly brought forgiveness, there would be no need for Christ's sacrifice…
NAS  Hebrews 10:1-18 For the Law, since it has only a shadow of the good things to come and not the very form of things, can never by the same sacrifices year by year, which they offer continually, make perfect those who draw near. 2 Otherwise, would they not have ceased to be offered, because the worshipers, having once been cleansed, would no longer have had consciousness of sins? 3 But in those sacrifices there is a reminder of sins year by year. 4 For it is impossible for the blood of bulls and goats to take away sins. 5 Therefore, when He comes into the world, He says, "Sacrifice and offering Thou hast not desired, But a body Thou hast prepared for Me; 6 In whole burnt offerings and sacrifices for sin Thou hast taken no pleasure. 7 "Then I said, 'Behold, I have come (In the roll of the book it is written of Me) To do Thy will, O God.'" 8 After saying above, "Sacrifices and offerings and whole burnt offerings and sacrifices for sin Thou hast not desired, nor hast Thou taken pleasure in them" (which are offered according to the Law), 9 then He said, "Behold, I have come to do Thy will." He takes away the first in order to establish the second. 10 By this will we have been sanctified through the offering of the body of Jesus Christ once for all. 11 And every priest stands daily ministering and offering time after time the same sacrifices, which can never take away sins; 12 but He, having offered one sacrifice for sins for all time, sat down at the right hand of God, 13 waiting from that time onward until His enemies be made a footstool for His feet. 14 For by one offering He has perfected for all time those who are sanctified. 15 And the Holy Spirit also bears witness to us; for after saying, 16 "This is the covenant that I will make with them After those days, says the Lord: I will put My laws upon their heart, And upon their mind I will write them," He then says, 17 "And their sins and their lawless deeds I will remember no more." 18 Now where there is forgiveness of these things, there is no longer any offering for sin.
"EACH ONE OF THESE MATTERS IS CLOSELY RELATED, OF COURSE, FOR THE OLD COVENANT, THE LEVITICAL PRIESTHOOD, THE LAW, AND THE ANIMAL SACRIFICES ARE INTERTWINED. – Schneider
– Professor Thomas A. Rohm